Concert on 16 April 2016 at the Olivia Sky Club, 5 pm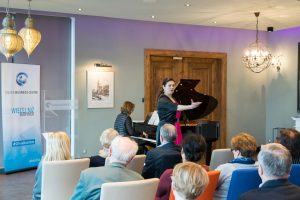 From the windows of the Olivia Sky Club at the Olivia Business Centre on the eastern side of the Gulf of Gdańsk, one can see the port, shipyards … Is it that direction that could be pointed with her hand by the grieving Madame Butterfly who would sing "There, in the east".
The inauguration of concerts to be held every third Saturday in the month (with the exception of the summer time) covered an exceptional subject and extraordinary heroines on the stage. The repertoire of the prima donna of the century – Cecilia Sofia Anna Maria Kalogeropoulou since that was the born name of the Greek Maria Callas – was sung by Ewelina Wojciechowska, gifted a dramatic soprano, an artist with a very broad voice scale and perfect vocal technique.
We heard arias and saw scenes from such well known operas as Carmen, Aida, Madame Butterfly, Tosca, as well as those that are not so regularly performed but have made famous with the performance by Maria Callas. With the sounds of music – intermezzos played on the piano by pianist Anna Mikolon, with the moderation (Anna Sawicka) and the pearly coloraturas by Ewelina Wojciechowska the figure of the exceptional woman was conjured up. A very hard working artist who devoted her entire life to her vocal career, who passionately loved, had whims, experienced hard times in her life, who was overjoyed with the phenomenal bass of Bernard Ładysz… Maria Callas achieved all there was to achieve in her short life! She died at 54.
Very few singers are capable of carrying the repertoire of the greatest prima donna of the 20th century. The concert was followed by applause and a friendly receipt and the public was indeed moved.