From today, Lechia Gdańsk Foundation will have its headquarters in Olivia Business Centre. The foundation has joined other social organisations which reside in Olivia CONNECT, shortly after Marek Kamiński Foundation and Institute. In a meeting, which inaugurated foundation's presence in Olivia's CONNECT space, there took part, among other guests, Adam Mandziara, Lechia Gdańsk CEO, Janusz Biesiada, Lechia Gdańsk Foundation CEO, Tomasz Motyka, Executive Director of Lechia Gdańsk and Maciej Grabski, Olivia Business Centre CEO.
While greeting guests, Lechia Gdańsk and Olivia Business Centre traditionally swapped pennants and football shirts.
Lechia Gdańsk Foundation was established in May 2017 and is based on four pillars: brotherhood, help, education and sport. One of its goals is supporting the development of children and youth by promoting active and healthy lifestyle. The foundation is also engaged in improving the conditions and quality of life of people in difficult health and financial situation. It concentrates, for example, on social care, helping educational and care institutions, as well as activating associations and local communities.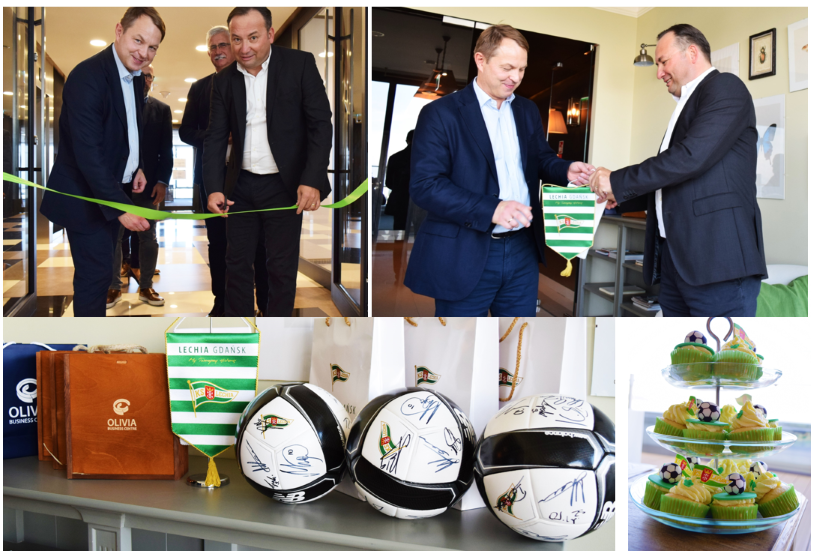 – Olivia CONNECT created comfortable working conditions for Lechia Gdańsk Foundation. Headquarters in one of the most modern office centres in Gdańsk enables us to achieve our statutory objectives in a more effective way.  We have our office in direct neighbourhood of many foundations and institutions, which are engaged in charity activities. Thanks to that, we will be able to establish cooperation, extend the spectrum of our activities and get engaged in new projects "round the corner" – says Janusz Biesiada, Lechia Gdańsk Foundation CEO.
Many non-governmental organisations have their headquarters in Olivia CONNECT, for example associations and foundations, as well as business support institutions. Among CONNECT's residents there are infoShare Foundation, Marek Kamiński Foundation, Marek Kamiński Institute, Inspirujące Przykłady Foundation, as well as Pomeranian Regional Chamber of Commerce, Pomeranian Association of Entrepreneurs Lewiatan, GUP Job Office, ICT Interizon Cluster and BPO Education Centre – Sopot University of Applied Sciences.
– We are proud that such prominent residents are joining us. We are doing our best, this is our main aim, to create for them optimal conditions to cooperate, develop, as well as to exchange knowledge and experiences. We want to motivate them to cooperate and implement projects, which are beneficial for the whole Pomerania region – highlights Agnieszka Zglinicka, SME Director in Olivia Business Centre. – For many years, Lechia has been actively participating in Tricity social life. Now, thanks to the foundation, it will have a chance to intensify actions, which aim to help people in need. I am convinced that both Olivia Business Centre and our business hub's residents will actively engage in foundation's projects.
Lechia Gdańsk Foundation's website
Olivia Business Centre's website