Olivia Star is becoming a new business symbol of Tri-City and a natural complement to Olivia Business Centre, one of Poland's most interesting multifunctional developments. The cornerstone ceremony took place on 30 June 2016.
The highest floor of Olivia Star, towering in excess of 150 m above the ground, will offer the most stunning vista in Poland: the Bay of Gdańsk, Gdańsk, the cliffs of Gdynia, the ports of Gdynia and Gdańsk, the pier in Sopot, the Hel Peninsula and the Tricity Landscape Park with all its abundance of trees and greenery. For this reason, these highest floors of the building will accommodate a commonly accessible observation deck and a conference centre. The access will be provided by two separate elevators that will not stop on any other office floors.
The building will adjoin a glazed winter garden with greenery and water features, to be situated in the inner patio. The winter garden has been designed as a venue for educational and artistic events. This beautiful space, with its wonderful atmosphere, will be made accessible to the local community all year long.
– We wish Olivia Star to become a new symbol and pride of Gdańsk, Tri-City and the whole region of Pomerania.  Olivia Business Centre is the business and conference heart of the whole metropolitan area. With its excellent location in the Oliwa district – a geographic centre of our agglomeration – it is a link connecting the potential of Gdańsk and Gdynia. The shape of the building will be a reference to the architecture of the neighbouring arena building – Hala Olivia. This is where the first national congress of the Solidarity trade union was convened in 1981. This is where the word "Community" was quoted in various languages in the Solidarity's message to the nations of Europe. This is where the Eastern Europe's first Real Song Festival was held. By making reference to the Hala Olivia architecture we wish to say that although we are younger and stronger – Olivia Star is a tall building after all – we do continue the work of our Fathers and Grandfathers. It is like an intergenerational relay which was initiated by our fathers and we shall pass the baton to the next generation soon – said Maciej Grabski, Olivia Business Centre CEO when opening the cornerstone ceremony.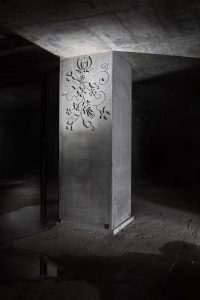 This event was a symbolic acknowledgment of Kashubians – people who have been building Tri-City for hundreds of years: from the port of Gdynia, through merchants' houses in Gdańsk, to the churches of Oliwa. Olivia Star is just another contribution of their hard work. This fact has been recorded in the foundations of the new Olivia Business Centre building, whose pillars are decorated with Kashubian embroidery motives.
– There office market virtually did not exist in Tri-City at the turn of the XX and XXI centuries. Today, with the  floor area estimated to exceed 600,000 sq m, it is well in the lead of Polish regional markets, adding to the investment attractiveness of Pomerania and thereby attracting new business and creating new jobs. I am happy to see Olivia Business Centre as a great contributor here, with its tallest building – Olivia Star – proudly manifesting the potential of the place. This potential stems not only from job opportunities for thousands or from the high quality of the office space, but also from the social, cultural and educational opportunities embedded in the project, as well as from the atmosphere so favourable to new businesses and start-ups – said Mieczysław Struk,  Marshall of Pomeranian Voivodeship.
– Maciej Grabski, President of Olivia Business Centre, is a man of great imagination and great determination. He is also a man with passion for Gdańsk.  He knows well that Gdańsk is an excellent place for living and an excellent place for doing business. The office buildings that emerged in the vicinity of the University of Gdańsk several years ago are the fruits of his passion. Empty spaces turned into a place full of life, with almost five thousand people working here every day. Owing to such developments, Gdańsk has become an attractive labour market for young, well-educated people, who are choosing to build their future and develop their careers in our city – said Paweł Adamowicz, Mayor of Gdańsk.
With the peak point at the height of 156 m and the spires rising to an elevation of 180 m, Olivia Star will be the tallest building in Northern Poland. It will be located between Olivia Four and Olivia Six, thereby closing the ring around the inner, publicly accessible patio with greenery and water features. Olivia Star will increase the Olivia Business Centre's floor area from 73,000 sq m to 120,000 sq m. The building has been designed with a 3-level underground garage. First tenants are expected to move in by spring 2017.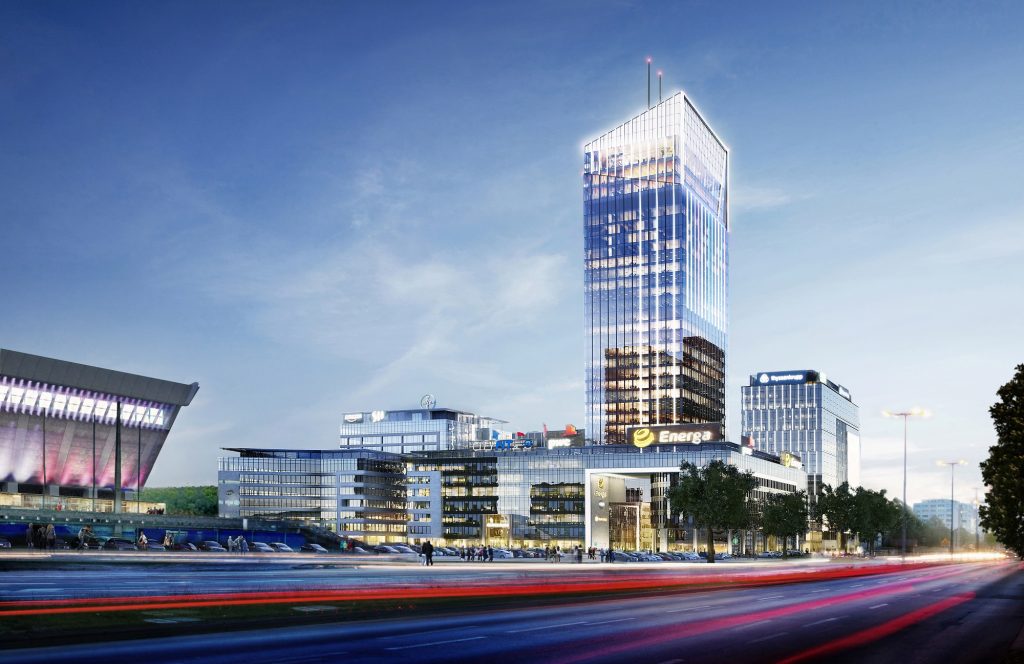 – Olivia Star will be the most modern high-rise building in Poland. It is going to be one of 3 buildings in Poland with a three-pane all-glass curtain wall façade (Olivia Six was the first one) and, what is even more important, the natural ventilation systems designed on all office floors will make the comfort of work at Olivia Star incomparably greater than that offered by any tall building being constructed today. This will be possible owing to the innovative façade that we designed by ourselves and tested in Germany. Similar buildings are being built in Warsaw, but there is no such solution in any of them. Owing to tilt inserts in the façade, it will be possible to let fresh air to each room individually. The building has been tested for its acoustic properties and, certainly, it will be certified for BREEAM Excellent status. Olivia Star has already been commercialised in ca. 30% – said Maciej Kotarski, Lease Director at Olivia Business Centre.
Olivia Star will add drawing power to the already attractive young business district in Grunwaldzka Avenue in Gdańsk. The "city district" that has been growing here in the recent years is not to be found in other cities of Poland. The exceedingly modern Gdańsk University Campus, the multi-functional office buildings and the innovation-based incubators are all side by side here. Hence, the high-rise building will ne both a dominant and a natural complement to this part of the city.
– The vicinity of modern campuses of the University of Gdańsk and Olivia Business Centre has brought about co-operation opportunities, giving rise to new faculties and fields of study, modification of curricula, cycles of practical training and internship for students, as well as series of visiting lectures given by representatives of Polish and foreign companies in several departments of the University. In my opinion, the good and growing co-operation of the University of Gdańsk, which educates almost 30,000 students, with the dynamic business centres and the whole economic environment of Pomerania, is one of important factors contributing to the positive internal migration balance of our region. Young people can find rally advantageous conditions to start their adult life here. They may acquire good education and find an attractive, ambitious job. This is where they want to stay and live – says Professor Bernard Lammek, Rector of the University of Gdańsk.
– The location is most correct in the context of developing the so-called Central Business Strip and the concept of city growth "to the inside". Furthermore, this location is fully supported by the current local laws and regulations, as well as urban studies – stated Professor Piotr Lorens, Head of the Urban and Regional Planning Department at the Faculty of Architecture of the Gdańsk University of Technology.
Multifunctionality had been one of the main ideas behind creating Olivia Business Centre from the very beginning. The Olivia Business Centre team takes care of the life-work balance of all those employed at the centre: business, education, culture and sports events are organised on a regular basis here. In April 2016, a two-storey 24/7 CityFit fitness club opened. Residents are welcome to use 3 conference centres, a medical centre with a pharmacy, 3 restaurants, 2 coffee shops, a day nursery and a nursery school, 4 banks, a modern gymnasium, a beauty salon, a notary's office and an electric vehicle charging station. The Centre provides open air and underground parking facilities for over 2000 cars, 200 bicycle racks and 5 changing rooms with showers.
Olivia Business Centre is home to more than 100 companies, including Allianz, Alior Bank, Amazon, Bayer, Energa, Epam, Generali, Medicover, Noble Bank, PKO Bank Polski, PwC, Sii, T-Mobile, Thyssenkrupp and Pomerania Development Agency. Furthermore, Olivia Business Centre has prepared an offer for small and medium-size enterprises, NGOs and start-ups. With one new building launched each year, the Centre has been constantly growing since 2010.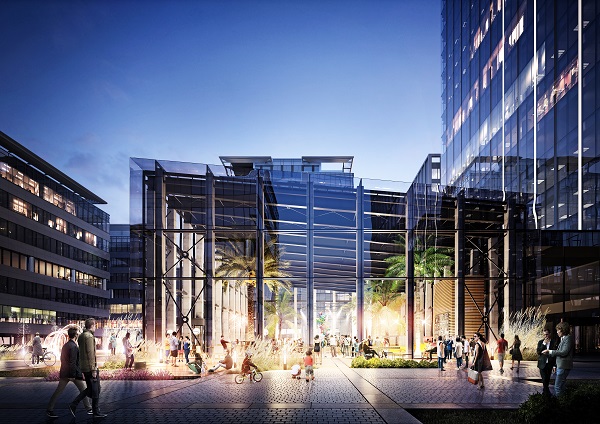 OLIVIA STAR
Total height: 180 m
Façade peak point: 156 m
Highest point above the sea level: 200 m.a.s.l.
Above-ground floors: 35
Underground floors: 3
Rentable area: 43 700 sq m
Natural ventilation of each room: YES
Environmental certification system: BREEAM
First residents expected: spring 2017
Architect: BJK Architekci, Gdynia, Poland
General contractor: Pekabex