Olivia Business Centre created a unique pre-Christmas atmosphere for its residents. During the last two weeks you could participate in the following events in the biggest business centre in northern Poland: Christmas classical music concerts, organic food fair, bazaar with presents and competition for residents for most beautiful handmade decorated baubles.
"We wanted to create something unique, to do something more than just decorate buildings with Christmas ornaments. We also constantly try to involve people working at Olivia Business Centre in shared activities," said Małgorzata Ziemkowska, Customer Care Manager at Olivia Business Centre. "Many of our pre-Christmas attractions were accessible also to the inhabitants of Oliwa, the district of Gdansk that we're part of. The organisation of the fair and Christmas concerts is a quite an unconventional task for a business centre, but Olivia Business Centre is something much more than just a modern and comfortable workplace," added Małgorzata Ziemkowska.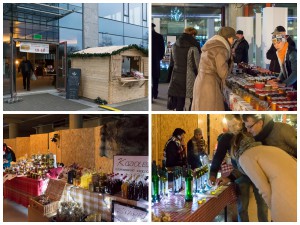 The most popular attraction was the Christmas Nature Fair, during which local providers of organic food from the nearby Gdansk Nature Bazaar offered their products. A day earlier, on 17th December, craftsmen and manufactures of hand-made products set up their stands in the 04 space, which normally hosts start-ups and small and medium-sized enterprises.
The Residents of Olivia Business Centre also eagerly participated in the competition for most beautiful Christmas tree ornaments. Several dozen people and companies sent their hand-made ornaments. To these decorations belonged mainly baubles, but there were also angels, bows, stars, wreaths… and Christmas maki sushi prepared by the Koku Sushi restaurant.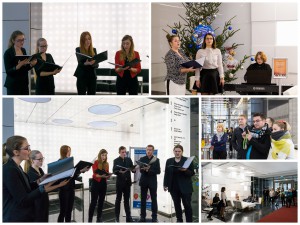 In the week preceding Christmas, classical music was played in the lobbies of chosen Olivia Business Centre buildings. Fifteen-minute-long concerts were given by lecturers and students of the Stanislaw Moniuszko Musical Academy in Gdansk.
All the buildings of the centre have been traditionally decorated with Christmas illuminations. This year's novelty were gigantic 3-metre sized baubles, which were placed in front of the centre from the side of Tricity's main road, Grunwaldzka Alley, thanks to a co-operation with the Energa Group, which is the Exposition's Sponsor and one of the residents of Olivia Business Centre.

Energa Group is the Christmas Exposition's Sponsor.
About Olivia Business Centre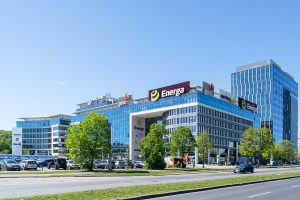 Olivia Business Centre in Gdansk is the most modern business centre in northern Poland. Its ultimate area will exceed 170,000 square meters, which means that Olivia Business Centre will become the biggest office complex in Poland. Companies such as the following have opened their offices here: Alior Bank, Allianz, Amazon, Bayer, Energa, Noble Bank, PKO BP, PwC, Sii, ThyssenKrupp. The Centre has been systematically expanding at the rate of one building per year. Olivia Business Centre is however much more than just buildings. Business, educational, cultural and sports events are regularly held here. Inter alia the following services remain at the Residents' disposal: 3 conference rooms, medical centre with pharmacy, 3 restaurants, Starbucks cafè, kindergarten and nursery, 4 banks, modern middle school, beauty salon, notary, point for charging electric cars. The Centre has over 1600 parking places, including underground ones, and over 200 bicycle racks as well as 5 changing rooms with showers A two-floor fitness studio CityFit will be opened in 2016.