We would like to thank all participants for their involvement and creativity. Every year, there are more and more decorations. Every person, who participates in our competition, demonstrated great creativity, patience (what an artistry!) and exceptional manual skills. Thanks to this, every decoration, which was hung on our trees, is absolutely unique!  
The time, when participants are sending their applications, gives us a lot of joy. We can not only get to know you better, but also have a chance to admire your works! However, the stage of selecting the winner is much more difficult. How can we choose only three decorations out of so many great works?
Following long discussions, we are ready to announce the winners of the 3rd edition of Olivia Business Centre's Christmas Competition for the Best Decorations
1st place – Atos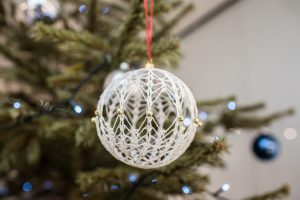 Jury's comments:
Christmas ball was made with the highest precision. The decoration is very delicate and intricate like a snowflake. It ideally reflects the Christmas atmosphere.
2nd place – Pomerania Development Agency S.A.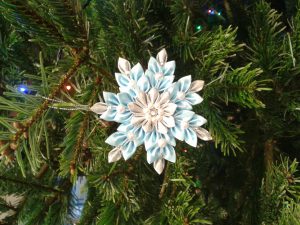 Jury's comments:
What makes the biggest impression is the multitude of elements and their perfect matching. You can see a great deal of work put in creating this decoration. Embroideries add additional charm and pearls are the ideal crowning of the work.
3rd place – HK Finance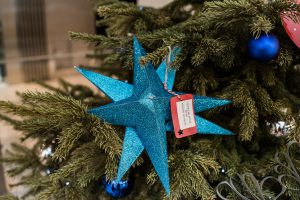 Jury's comments:
HK Finance surprises us with its creativity and involvement. This year's decoration makes a beautiful match with Christmas setting in Olivia Business Centre. Thank you for your perseverance and for the fact that you are with us from the very beginning of the competition.
Special awards go to the youngest, talented authors:
Augustyna (1 year and 9 months old), who was assisted 🙂 by her mother Justyna (Bayer).
6-year old daughter of Hanna from Staples.
Siblings: Wiktoria, Patryk and Antoś from Biały Kotek kindergarten.
Several dozen of decorations made by our Residents can be admired in reception halls. Decorations, which took part in the competition, just like a year ago, will be stored and will decorate Christmas trees in our centre in subsequent years.
The winners will be soon informed about the date and place where they will be able to claim their prizes. Congratulations!
See all Christmas tree decorations in Olivia Business Centre reception areas.
Many thanks to: Pomerania Development Agency S.A., Atos, Bayer, Enspirion, HK Finance, Biały Kotek Non-public kindergarten, Nowakowski Gorąco Polecam, Staples, Thyssenkrupp.