Qumak S.A, a Polish provider of IT and technology solutions and its daughter company, Star ITS, the supplier of Integrated Traffic Management System TRISTAR, transferred their Tr-City offices to Olivia Business Centre. Their new premises are located at Olivia Four.

"When looking for a new office for our Tri-City branch, our main focus was on the location and prestige of the place," says Bartosz Aleksiejuk, Senior Key Account Manager at Qumak S.A. "For these reasons, we decided to choose Olivia Business Centre. The new building's business environment was an important aspect. With major, renowned companies in our neighbourhood, we can establish new business relations. We already see that this was the right thing to do. Furthermore, business partners and clients visiting our office appreciate the location for the convenient access and all the services and amenities offered here."
Qumak S.A, a Polish provider of IT and ICT systems, has been present on the market for more than 30 years now, designing and implementing innovative ICT solutions for the private and public sector. The company is the leading integrator on the Polish ICT market and a partner of more than 50 global technology leaders. Qumak employs a team of 700 qualified specialists, its client portfolio comprising 80 of Poland's 100 largest companies.
The company specializes in infrastructural projects (eg. building automation, data centres), IT infrastructure and security, as well as such marketplace niches as airport infrastructure, multimedia exhibition centres and Smart City solutions.

Star ITS – the co-provider of TRISTAR
Olivia Business Centre is also home to Star ITS – the Qumak S.A. daughter company operating in the broadly defined sector of Intelligent Transport Systems. The company is responsible for the overall implementation, calibration and maintenance of traffic control and management systems. Its major projects include TRISTAR – the largest Integrated Traffic Management System in Poland, covering the territory of Gdańsk, Gdynia and Sopot, as well as the Traffic Management System in Lublin.
"Olivia Business Centre is such a convenient place to establish new business contacts," says Tomasz Turczynowicz, Star ITS CEO. "We have chosen the location, because through important projects we can strengthen our market position and look boldly to the future. We are seeking to work with solid partners – and this is namely what we find at Olivia Business Centre.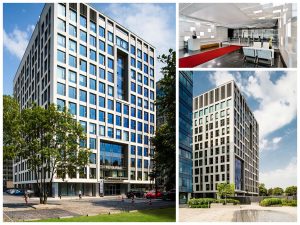 Qumak and Star ITS occupy an office on the 4th floor of Olivia Four. The interior design and fit-out was provided by the Olivia Business Centre design office.
"We are very happy to see Qumak and Star ITS among our residents," says Agnieszka Zglinicka, Project Manager at Olivia Business Centre. "With more companies from the IT sector, Olivia Business Centre is becoming a key innovation centre in the region of Pomerania now. Both major corporations and SMEs are very much welcome here."