We are talking to Marta Szulc from Caritas branch in Gdańsk about the strength of good, which flows out of contact with people, who have their passions and energy to act, about overcoming stereotypical way of perceiving seniors and about why it is worth taking part in events, which present the behind-the-scenes work of one of the oldest charity organisations in Poland.
Monika Bogdanowicz (Olivia Business Centre Communication): Is good nowadays a deficient value? What are your experiences concerning the work with different groups of people in need and the ones who help?
Marta Szulc (Secretary of the Management Board in Caritas of Gdańsk Archdiocese): We are sure that good is in all of US. That is why, there are as many GOOD deeds as there are people. Variety of issues, areas of life and social areas, which Caritas in Gdańsk is occupied with, very often makes us think that there is not so much good around us. Children, who don't have second breakfast at school or socks without holes; people under the care of our clubhouses, seniors, who want to get rid of the feeling of loneliness in our facilities or homeless and hungry people. It may seem that they haven't met enough good people on their way if they are seeking help from us. However, all you have to do is come to any of Caritas facility and you will realise that these are places, where there is plenty of good. I would like to emphasise that this good is in all of us: in our charges, employees, volunteers. In me and you. You just need to find the way to bring it out.
MB: Why do we need to be good people in the contemporary world?
MSz: I wouldn't confine being good either to time or place. Being good is always needed. The thing that is characteristic for the contemporary world is a huge drive for… actually we don't really know for what. But the thing I know for sure is that every situation, when I can stop for a while, do something good, gives me enormous satisfaction. It works in the case of every human being. I encourage you to give it a try even today. What can you do? You can smile to a ticket inspector on a train, say 'good morning' to your neighbour… Let's start with little things.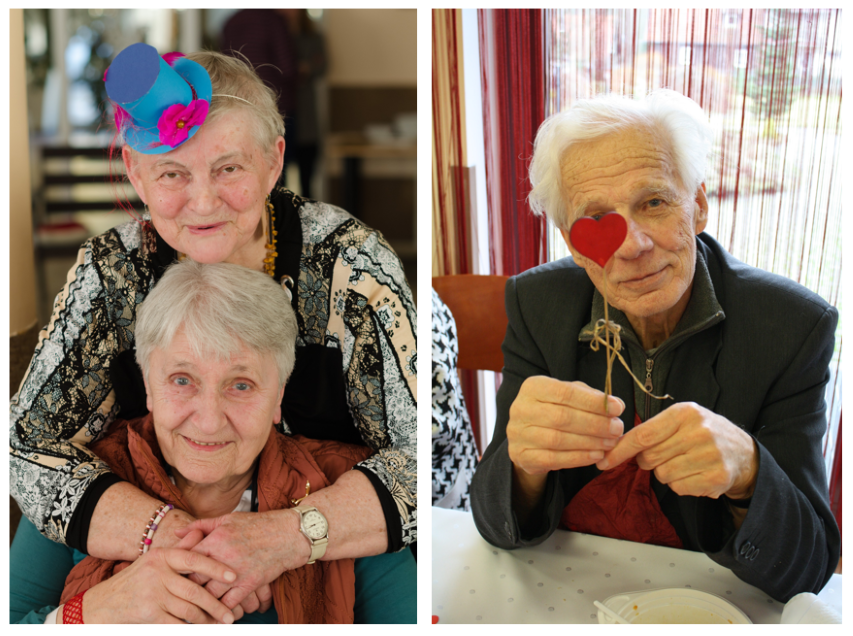 photo: Caritas of Gdańsk Archdiocese
MB: How do you create active communities of people, who want to share their time, experience and passion?
MSz: The most difficult thing is to overcome certain stereotypes, prejudices and attitudes. I have been working for Caritas in Gdańsk for more than 13 years and I have learnt to start with a meeting. Do you want to devote your time and passion to seniors? Come to one of our facilities. Spend some time with us, let's get to know one another. You will soon realise that you are not the only one who can share something – seniors have great experience and their passions, which they will eagerly share. It is important to be and to act together.
MB: You are beginning a new series of meetings, which will be organised in Olivia Business Centre. How did you come up with such an idea and which goals are you setting to implement using this formula?
MSz: The idea was slowly growing for about two years. I will refer to something I said before, we would really like to meet people who work in this area. We want to spend some time together, simply be together. Our goal is to get to know better and share the best things we have. I must admit that we would also like to give employee information, which they may use in the future, for example, who can seek help from us or how you can join us, for example as a volunteer.
We would like to show that Caritas in Gdańsk hires more than 300 employees and consists of more than 20 facilities, including a hospice, which is now preparing a charity ball, to which we invite you. These facilities include also: Home for Single Mothers, a dozen or so clubhouses, Occupational Therapy Workshops, branches of Nursing Institution, Caritas Club's School, canteen for homeless people, district nurses, Social Welfare Home, day medical care centre, Senior Day Care Centre…
We would really like to show the backstage of "Caritas", share the good we have and maybe help the ones who haven't found it yet in finding it?
MB: Who are the meetings directed to and what can we expect from them?
MSz: The meetings are directed to people who work in Olivia. We invite also our charges and co-workers. During them we would like to show in an interesting way what is going on in our facilities. On Tuesday, 23rd of January, there will be held a meeting with seniors – it will be a really interesting event. Personally, I am waiting for classes as part of "brain exercises" series – it's a small sample of classes, which we conduct for seniors. I can't also wait to see a photo exhibition. I will just say that our ladies are on the covers of catalogues of a well-known Swedish company. This is really impressive. The first meeting as part of the series will be dedicated to active seniors who are full of passion. Because of the fact that this is our first meeting, I don't hide the fact that as organisers we feel some jitters.
Our seniors will participate in the meeting. They will share all their best with us. They will share their passions, talents and experiences. I have talked to Krysia and I know they are really looking forward to it. We want to show that old age can be beautiful, what will be reflected by the photos of our senior ladies, which were taken during a professional photo session, joyful – what will be heard during joint singing, active – it will be proven, among other people, by Kacper, our physiotherapist who works with seniors and creative – actors who are more than 70 and who prepared a Nativity play, will try to convince us that it's true. But above all, we want to talk about the fact that old age is also GOOD.
photo: Caritas of Gdańsk Archdiocese
MB: How do you manage to activate the potential of such people and what surprised you the most while implementing projects dedicated to seniors?
MSz: Working with people requires… meeting people. I know, I repeat myself… But you just need to listen to the story of their lives. Then you need to get rid of patterns, prejudices and fulfil your dreams… One of such dreams came true – while carrying out photographic project with seniors in a facility in Dolne Miasto, one of the seniors said: "We have such beautiful photos – we must show them to other people". Another one added: "But we have a gallery in our district – let's prepare an exhibition". At first, I was speechless. But I got rid of things that limit us and I said: 'Why not?' Some weeks later, our seniors had their exhibition in Łaźnia Contemporary Art Gallery in Gdańsk in Dolne Miasto. It was a magical time of dreams come true. I wish you many dreams come true and once again would like to invite you to a joint meeting!
M.B: I wish you many good moments and meetings with people, who want to devote their time and give Caritas new, good energy.
–/–
Marta Szulc. Professionally: Secretary of the Management Board in Caritas of Gdańsk Archdiocese (for less than 1.5 years). Before, she was the manager of Caritas facilities in Gdańsk, for example, Senior Day Care Centre, "Dobra" clubhouse, the coordinator of Voluntary Service. She has been working for Caritas in Gdańsk for more than 13 years. Education: pedagogue, psychologist. Private life: happy wife of Michał and mother of Antek and Marysia. Passions: working with plants in the garden, good coffee and chocolate in every form.
–/–
Caritas Poland is a charity organisation of the Polish Episcopacy Conference. It was reactivated on the 10th of October 1990. It refers to the tradition of Caritas charity work before 1950. It operates on the basis of the act of 17th May 1989 on the relations between the State against the Catholic Church. Since 2004, it has had the status of public benefit organisation (National Court Register Number 0000198645). Caritas Poland coordinates the work of 44 diocesan and archdiocesan Caritas facilities in Poland and supports them in carrying out their tasks. What is more, Caritas Poland has several roles: representative role (it acts on behalf of Caritas in Poland at the national and international level), formation and informative role (it conducts trainings, symposiums, it identifies the areas and scale of poverty in Poland), operational role (it initiates nationwide fundraising events for Poland and foreign countries, organises humanitarian transport, organises emergency, long-term, material, psychological, legal and financial assistance for unemployed, homeless, sick, elderly people, children from poor families, as well as immigrants and refugees).
The beginnings of Caritas activity in Poland involved mainly the distribution of material gifts from abroad (martial law). However, it quickly changed its strategy and started to deal with humanitarian help thanks to funds from people of goodwill and institutions. Caritas created professional care and educational facilities: Caritas Nursing Stations, rehabilitation centres, Nursing and Care Homes, Social Welfare Homes, Occupational Therapy Workshops, Homes for Single Mothers, canteens for the poor, clubhouses for children and elderly people and so on. In the international arena, it cooperates with "Cor Unum" Papal Council and is the member of Caritas Internationalis and Caritas Europe.