Olivia Six was short listed among the buildings nominated to the award for the best office building for BPO and SSC sectors. Olivia Business Centre was also awarded for the Olivia Campus project implemented jointly with the University of Gdańsk and Gdańsk University of Technology aimed at supporting young people in entering the labour market.
Olivia Six is the sole office building in the Tricity to have been nominated in the CEE Outsourcing and Shared Services Awards 2016. The jury of the competition also nominated the Residents of the Olivia Business Centre: PwC Poland in the category "General Advisory/Location Advisory Services Firm of the Year", Hays Specialist Recruitment in the category "Best Recruitment Firm of the Year", and Sii Sp. z o.o. and Atos IT Services Sp. z o.o. as "IT Services firm of the year – Poland".
The Tricity was again short listed in the category of the fastest growing agglomeration in Poland.
"It is important that the Tricity keeps being appreciated by global service companies. Once again we act as an agglomeration and not as individual competing cities. This is key to success and still faster development of the entire Pomerania of which the Tricity is the strongest driving force", said Maciej Kotarski, responsible for the commercialisation of the Olivia Business Centre.
The objective of the competition is to honour the achievements of BPO and SSC companies. The importance of the awards and nominations emphasizes the fact that they are awarded by an independent jury with representatives of the largest global companies and leading organisations.
About Olivia Business Centre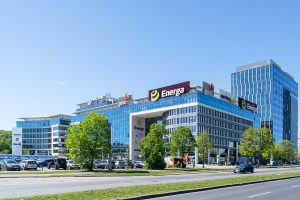 Olivia Business Centre in Gdansk is the most modern business centre in northern Poland. Its ultimate area will amount to 170,000 square meters, which means that Olivia Business Centre will become the biggest office complex in Poland. Inter alia the following companies have opened their offices here: Alior Bank, Allianz, Amazon, Bayer, Energa, Noble Bank, PKO BP, PwC, Sii, ThyssenKrupp. The Centre has been systematically expanding since 2010 at the rate of one building per year. Olivia Business Centre is however much more than just buildings. Business, educational, cultural and sports events are regularly held at OBC. The Centre's tenants have an access to, inter alia: 3 conference rooms, medical centre with pharmacy, 3 restaurants, Starbucks café, kindergarten and nursery, 4 banks, modern middle school, beauty salon, notary, point for charging electric cars. The Centre has over 1600 parking places, including underground ones, and over 200 bicycle racks and 5 changing rooms with showers. A two-floor fitness studio CityFit will be opened in 2016.