Olivia Business Centre team recognised with Office Building Manager of the Year award in the Eurobuild Awards competition.
Out of hundreds of applications in this year's Eurobuild Awards competition, independent Jury selected and awarded personalities, companies and facilities, which have had the greatest impact on the Polish real estate and construction market.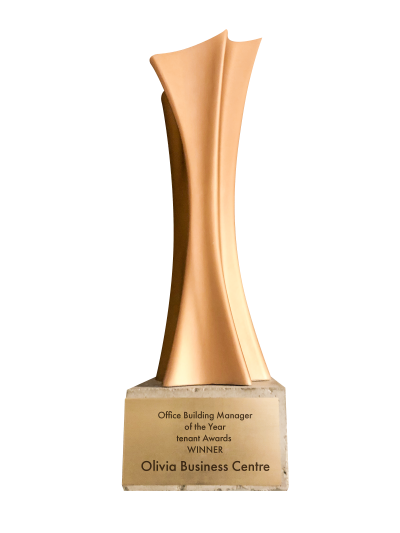 – I would like to thank for this special award on behalf of the teams of the Relations with Residents, Management and Safety. Office Building Manager of the Year prize, awarded thanks to your votes, is not only the capstone of our everyday work, but most of all an extra motivation to ensure even higher standards of our services – said Konrad Danecki, who is responsible for Investor's Supervision in Olivia Business Centre, at the final Gala.
The award makes us particularly glad because it proves that self-managed Olivia Business Centre is able to meet expectations, which result in Residents' well-being and comfort.
– In Olivia we call our tenants Residents. Together we create and develop our centre, where we are connected not only by work, but also by passion. With them in mind we created the department of the Relations with Residents, which is in regular and close contact with the representatives of companies and which monitors the level of satisfaction with the services and gives the directions of development, which reflect the actual needs of companies stationed in the centre – explained Agnieszka Zglinicka Head of Relations with Residents Department in Olivia Business Centre.
This dedicated team cooperates closely with other departments, which take care, among other things, of safety, the highest quality and the reliability of building and technical infrastructure, as well as the user-friendly aesthetics of the area. Facility Maintenance Department, that is licensed real estate managers, facility administrators and technical specialists, ensure comfort for companies and high standard of offices, as well as common areas.
– The role of Olivia Business Centre as a host goes way beyond administration and management – every day the above-mentioned teams do their best to meet the expectations of the Residents, while maintaining the acceptable level of costs – emphasised Monika Pietrzak Head of Facility Maintenance Department in Olivia Business Centre.
Such an operating model based on the unique team of specialists combined with state-of-the-art solutions guarantees the highest level of service, while close cooperation with other OBC departments makes it possible to provide optimal solutions, which – and that makes us happy – very often exceed established market standards.
Eurobuild Awards Gala is a meeting, which is considered by many experts to be a perfect opportunity to gain knowledge, share experiences and establish valuable business relations. This year's final took place on the 3rd of December in Warsaw.