Olivia Business Centre, one of the most interesting multi-functional office projects in Poland, started a new investment. Olivia Seven is being built simultaneously with the Olivia Star. The building having the total leasable area of nearly 30 thousand m2 will increase OBC space dedicated to companies to almost 150 thousand m2, including the cutting-edge Star towering above the Gdańsk metropolis. The work on the "Seven" is supposed to be finished in Q1 or Q2 2018.
The building called Olivia Seven is being built directly in the al. Grunwaldzka next to the Olivia Six office building. When the construction is finished, the Olivia Business Centre will become the largest office investment in Poland. "Seven" will be 55 m high, with 15 over-the-ground floors and a 3-level underground car park. It will offer nearly 30 thousand m2 of the best-quality office space designed, among other things, to meet the requirements of global companies. The environment-friendly design and technical solutions applied in the "Seven" will be evaluated according to the BREEAM environmental certification system with the aim of getting the highest ranking possible, i.e. Outstanding. What is more, Olivia Seven will be connected to two other buildings to be built further into the plot belonging to the investor in al. Grunwaldzka in the future. This step will make it possible to obtain more than 5 thousand m2 of office space on one floor.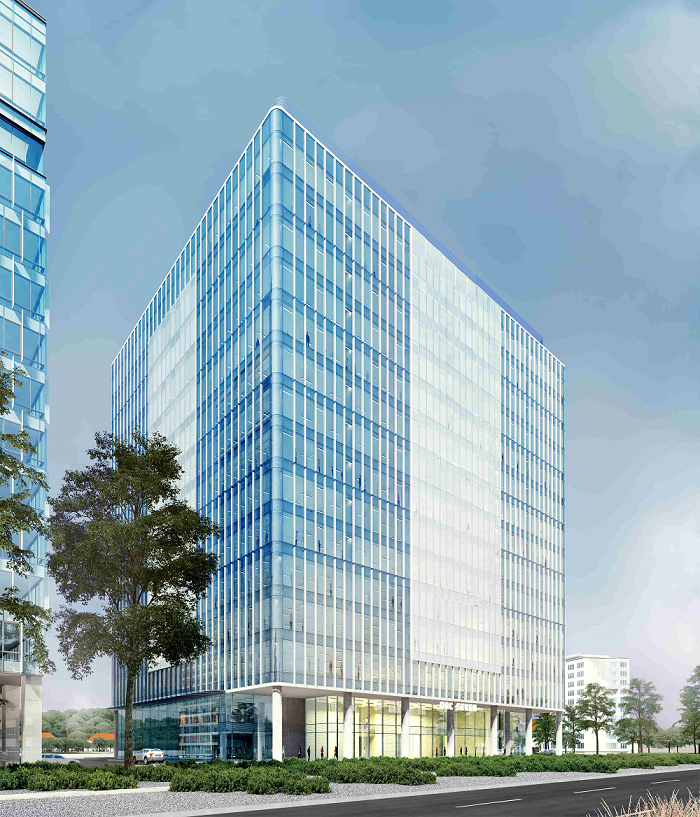 "Seven and Star are additional possibilities for business development in Pomerania and additional jobs", says Maciej Grabski, the President and investor in the Olivia Business Centre. "We have been developing a dynamic, enterprise-friendly centre in the Tricity for seven years. We know that varied factors determine the success of global brands, companies from the SME sector or start-ups. Therefore, we take care to offer optimum conditions for their businesses. And it is not only about high-quality offices. Among other things, we guarantee the access to business support institutions, IT, HR and financial companies, firms rendering consulting, legal or marketing services. Olivia Business Centre was supposed to be and is a portal for business. And business is great here." he adds.
Finished buildings in the Olivia Business Centre: Olivia Gate (2011), Olivia Point & Olivia Tower (2013), Olivia Four (2014) and Olivia Six (2015) surround the internal patio with greenery and landscape architecture. All of them, distinguished in industry contests many times, have Very Good or Excellent BREEAM environmental certificates. An additional patio will be created between the Olivia Star and Olivia Seven currently under construction – a yard with greenery, landscape architecture, terraces of cafes and restaurants.
"The construction of the seventh building in the Centre is supposed to offer large areas for large tenants on a single floor. Floor area will amount to nearly 2 thousand m2. Investors already present in Pomerania and those who want to start doing business here have to be sure that the conditions they will find in the Olivia Business Centre will meet their needs", stresses Maciej Kotarski, the Lease Director in the Olivia Business Centre. "The interest in the "Seven" is so great that 30% of its area is covered with initial bookings even though the foundations of the building are still under construction."
Specification of the seventh building in the Olivia Business Centre:
Planned delivery: Q1 /Q2 2018
Height: 55 metres
Number of floors above the ground level: 15
Number of underground floors: 3
Area for rent: 28 thousand m2
Floor area: 1900 m2