Sii, one of the largest IT employers in Pomerania, is moving to the new Olivia Star building in Olivia Business Centre. The branch in Gdańsk signed a lease contract covering 6 000 sq m of office space and became the first tenant at Olivia Star. Sii employees will commence work at the new offices at the beginning of 2017. Until that time the global provider of IT services wants to hire over 700 engineers in the Tricity.
"The opening of the new office is the result of cooperation with local customers and the expansion in international markets. We have been performing a growing number of projects for foreign counterparties which requires the increased hiring of qualified specialists," says Michael Desmurs, Director of Sii Gdańsk. "Planning new jobs we need much more very high standard office space. That is why we have decided to rent the offices at Olivia Business Centre – the selection was obvious for us as we are committed to comfort of work and Olivia Star will obviously ensure that," adds Desmurs.
Sii has an ambitious goal it has been pursuing – at Olivia Star they will develop a modern and employee-friendly office among IT companies in Poland. "Designing our new office, we have been inspired by the giants of the Silicon Valley like Google, Facebook or Apple. I have personally visited their offices and they are striking – both in terms of arrangement, interior decoration and exceptional space suited to employees' needs. We will also be heading in that direction," clarifies the Director of Sii Gdańsk. Apart from offices, the new place will also have relaxation rooms, a games zone, a gym and even a slide between the floors.
With a group of 2300 top class IT engineers in Poland, Sii has been one of the fastest developing IT and industrial engineering companies. The Company has 8 offices in Poland's largest cities. The branch in Gdańsk carries out international projects for customers from all over the world. For the projects under way, Sii Gdańsk is now looking for experienced programmers, testers, analysts, system architects, automation engineers and robotics engineers.
"The contract signed with Sii is a next step in the history of Olivia Business Centre. This is the first lease contract in the Olivia Star building now under construction which will be the largest building at Olivia Business Centre," says Maciej Kotarski, responsible for commercialisation of Olivia Business Centre. "Such large rental space as 6 000 sq m testifies on the one hand to the attractiveness of the Olivia Star project as well as to the development potential of our residents. Originally in 2012 the offices occupied by Sii at Olivia Business Centre was 1240 sq m. A five-fold increase in line with the company's growing needs would be possible in few office facilities in Poland. And nowhere there are so many facilities and services impacting the employees' satisfaction and effectiveness.
About Olivia Business Centre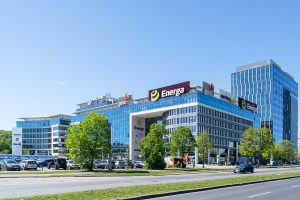 Olivia Business Centre in Gdansk is the most modern business centre in northern Poland. Its ultimate area will amount to 170,000 square meters, which means that Olivia Business Centre will become the biggest office complex in Poland. Inter alia the following companies have opened their offices here: Alior Bank, Allianz, Amazon, Bayer, Energa, Noble Bank, PKO BP, PwC, Sii, ThyssenKrupp. The Centre has been systematically expanding since 2010 at the rate of one building per year. Olivia Business Centre is however much more than just buildings. Business, educational, cultural and sports events are regularly held at OBC. The Centre's tenants have an access to, inter alia: 3 conference rooms, medical centre with pharmacy, 3 restaurants, Starbucks café, kindergarten and nursery, 4 banks, modern middle school, beauty salon, notary, point for charging electric cars. The Centre has over 1600 parking places, including underground ones, and over 200 bicycle racks and 5 changing rooms with showers. A two-floor fitness studio CityFit will be opened in 2016.