Generali Polska has become a new resident of Olivia Business Centre in Gdansk, the biggest office complex in northern Poland.
Generali Group is the third biggest international insurance company in Europe and sixth in the world. Generali operates in insurance, investment and real estate sectors. The company was established in 1831 in Italy. Its offices are located in several dozen countries all over the world.
The company has been operating in Poland since 1999, though its first offices on the Polish territory were established during partitions in 1836. Generali in Poland provides a wide range of insurance services, such as: property insurances, life and personal insurances, retirement funds and investment funds.
"Companies which provide services of the highest quality have their offices at Olivia Business Centre, so we're very happy because of signing an agreement with such a renown company as Generali Polska. The Olivia Four building is an elegant office block which meets the most modern standards in the scopes of ecology and work comfort, which is regularly noticed during various industry competitions. Olivia Four has a BREEAM certificate with an Excellent rating, which testifies highest standards concerning environmental protection. OBC is a perfect location for companies which care about their image," says Maciej Kotarski, who is responsible for commercialisation at Olivia Business Centre.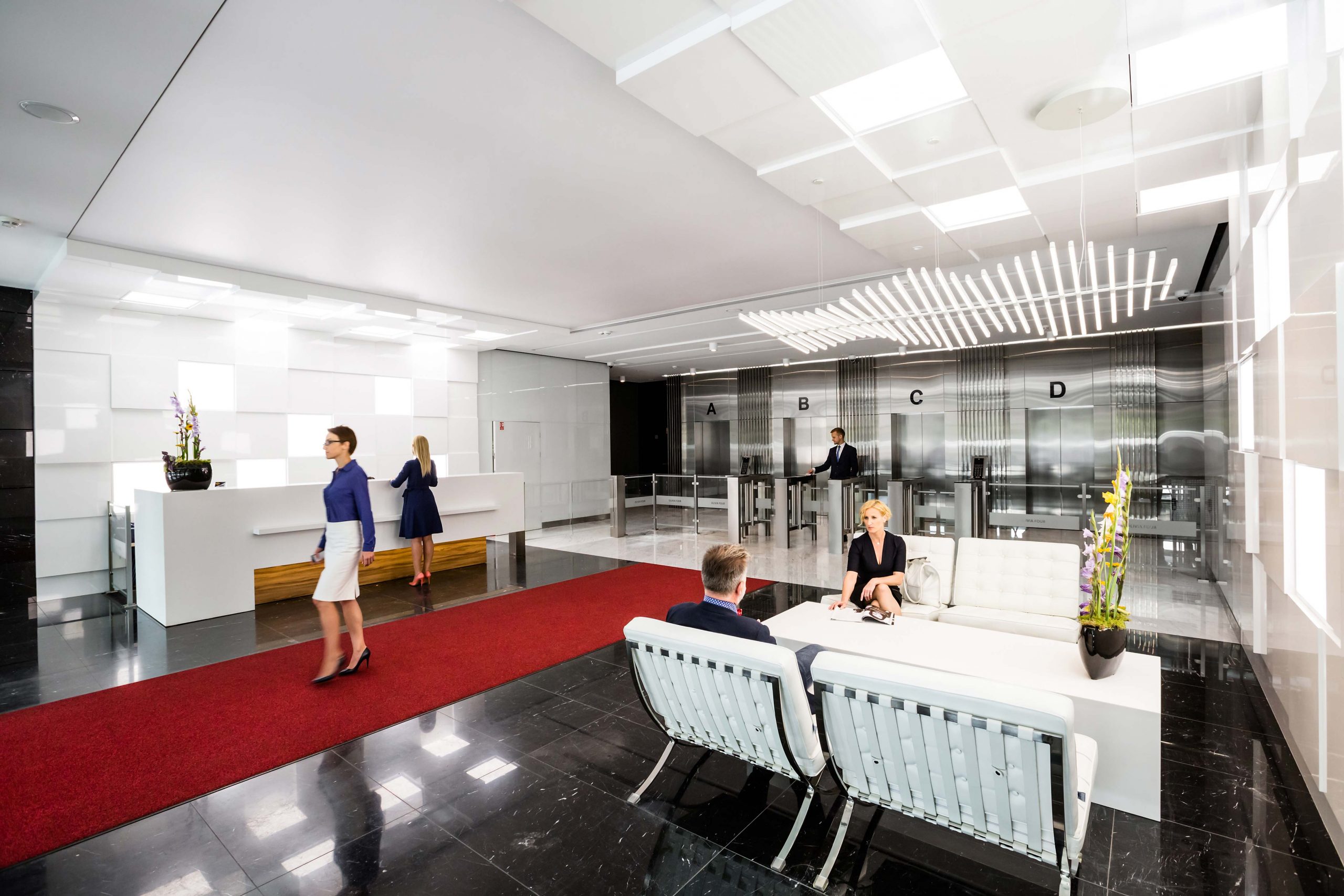 Olivia Four is an elegant, 4-floor office block with a characteristic, snow-white façade, which was handed over for usage last year. The hall of Olivia Four is considered to be one of the most beautiful in Tricity. It is paved with Bianco Carrara and Nero Marquina marbles, which were imported from Tuscany and Spain. You can also find there iconic Barcelona furniture, which was designed by Ludwig Mies Van Der Rohe for the world exhibition in Barcelona in 1929.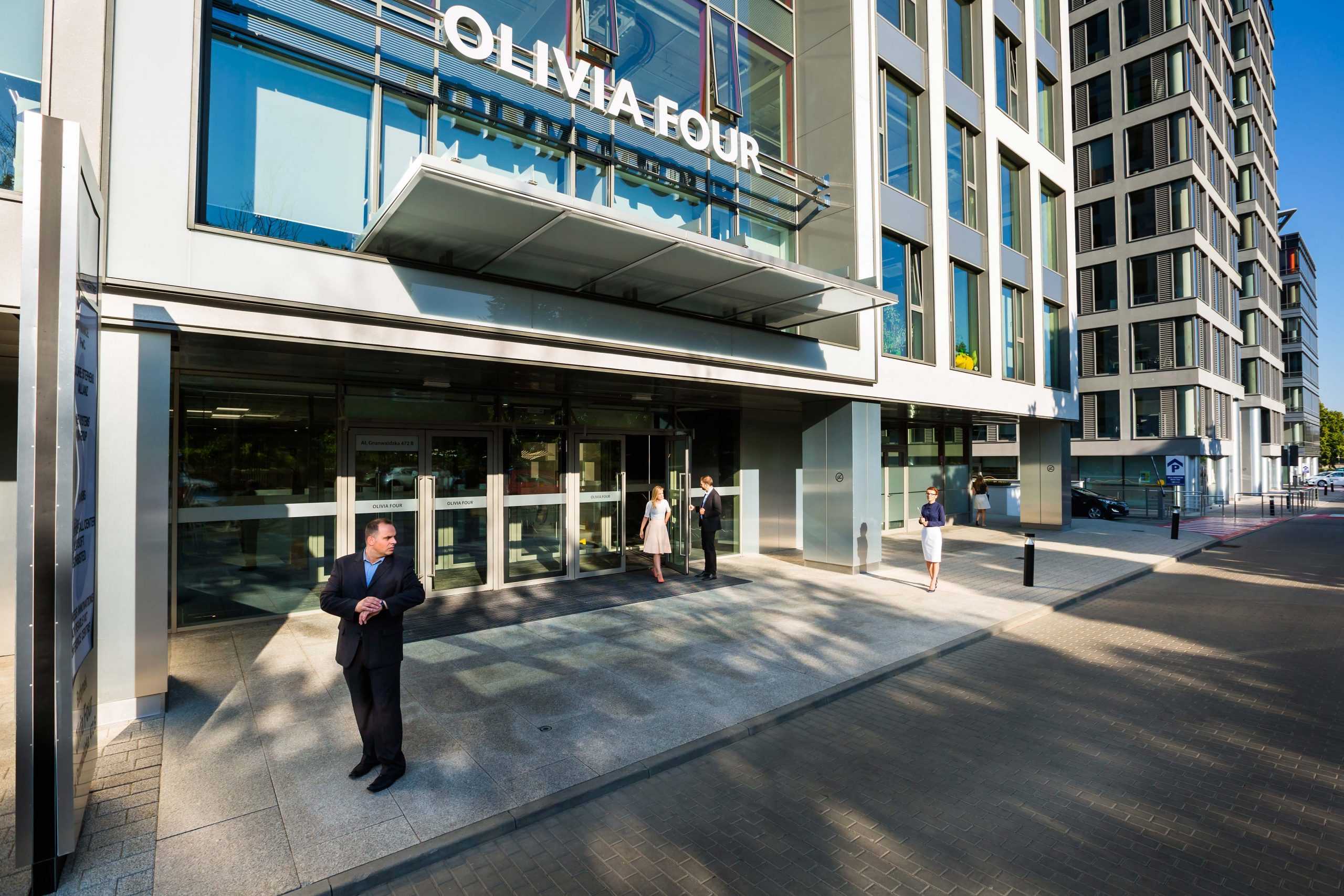 About the Olivia Four building
Olivia Four is a 11-floor office building of A class and is the fourth stage of the Olivia Business Centre investment. Its characteristic white-glass solid provides over 14,700 square metres of office space for lease and many underground parking places. Since Olivia Four was handed over for usage in 2014, inter alia the following companies have opened their offices there: Allianz, Alnet Systems, Competence Call Center, Epam Systems, Generali, HK Finance, Moore Stephens, Omida Logistics, Playsoft and Schibsted Tech Polska. In addition to international companies, there is also place for start-ups and small and medium-sized enterprises in Olivia Four. Also with them in mind, the ground floor as well as first and second floors of the building host the 04 innovation development space, which combines a multimedia conference centre, office spaces of various size, a coworking space with desks for hourly rental, and a socialising-oriented part.
The building is distinguished by modern environmentally friendly solutions, which are confirmed by a prestigious BREEAM certificate with a very high Excellent rating.
Olivia Four has advanced systems which reduce energy consumption and the building's maintenance costs. Moreover, those systems maximise functionality and safety.
The illumination of outside parking lots is controlled by dusk sensors, while underground parking lots are controlled by motion sensors.
The façade was constructed in accordance with the technology of warmth and light differentiated conductivity, which is dependent on exposure to sunlight (that is directions of the world).
The building is also equipped with systems which minimise the building's effect on the environment – a green roof with a water retention system, optimised external illumination which removes the so-called light pollution (excessive night illumination).
The building also has bottom hung casement windows which enable a natural ventilation of rooms and reduce the need for air-conditioning, which entails a reduction in maintenance costs.
Cyclists may use a free underground parking lot, a changing room with showers and a dressing room.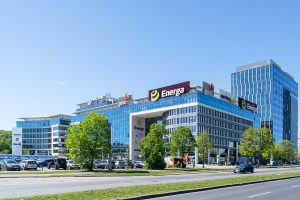 About Olivia Business Centre
Olivia Business Centre in Gdansk is the most modern business centre in northern Poland. Its ultimate area will exceed 170,000 square meters, which means that Olivia Business Centre will become the biggest office complex in Poland. Companies such as the following have opened their offices here: Alior Bank, Allianz, Amazon, Bayer, Energa, Noble Bank, PKO BP, PwC, Sii, ThyssenKrupp. The Centre has been systematically expanding at the rate of one building per year. Olivia Business Centre is however much more than just buildings. Business, educational, cultural and sports events are regularly held here. Inter alia the following services remain at the Residents' disposal: 3 conference rooms, medical centre with pharmacy, 3 restaurants, Starbucks cafè, kindergarten and nursery, 4 banks, modern middle school, beauty salon, notary, point for charging electric cars The Centre has over 1600 parking places, including underground ones, and over 200 bicycle racks as well as 5 changing rooms with showers. A two-floor fitness studio CityFit will be opened in 2016.