Several giants of the IT sector and related support services have their headquarters in the largest Polish business cent. Why Gdańsk and what are the benefits of operating in business hubs such as Olivia Business Center?
One of the greatest magnets is Gdańsk itself, which in numerous rankings is recognized as one of the best Polish cities in which to live and run a business, while well-known travel websites emphasize its still undiscovered potential, attracting the attention of tourists from Europe and many other regions of the world. However, global business did not need to confirm Gdańsk's potential in reports and already a few years ago many companies located their  headquarters in the capital of Pomerania. Amazon, Intel, Epam, Sii and InfoShare are among the European and world leaders in their sectors, and they have offices in the Olivia Business Center in Gdańsk.
Why Gdańsk?
The growing attractiveness of the city is important for companies opening their offices in Gdańsk. It is not only the available human resources that count, but also the image of the city in the eyes of employees thinking about relocation. Gdańsk,perceived in such a positive way is a magnet, which definitely facilitates the recruitment of qualified employees from other regions of Poland, but also for expats who move to Gdańsk from other European cities.
The location of the city and its main spatial advantages are also important. Employees from the IT sector are often young people who appreciate modern, metropolitan life, but very often combined with their sports passions. Gdańsk has the advantage of being close to the sea and the hills of the Tri-City Landscape Park, which is a mecca for mountain biking, jogging, Nordic walking and orienteering enthusiasts. – says Maciej Kotarski, director of the commercialization department at Olivia Business Center, who admits that these arguments are of great importance during business negotiations: For future employees, the location of the workplace in the TriCity centre and its good transport links is also of great importance. This is what the Olivia Business Centre can boast of, providing access to virtually all forms of urban transport along with the PKM railway reaching into the depths of Kashubia, and thus enabling quick and comfortable access for residents of towns located up to 60 km from Gdańsk. In the case of Olivia, the proximity to Oliwa and Przymorze, which are rated the highest in terms of the quality of life, is also very important, as is the proximity of the university campus. It makes life much easier for graduates who are not obliged to look for a new place to live in connection with their first serious job.
The same is emphasized by the residents of Olivia: The location is a great advantage for us, which means that almost every employee has exactly the same travel time despite living in different places – says Bartosz Bandzioch from Predict X. I myself commute about 70 km to work. Access to many services such as a car wash, tailor, hairdresser, restaurants and many others makes life much easier. This is an advantage that allows us to attract new employees. In addition, thanks to Olivia, we have met many people working in IT, thanks to which we got to know the Polish job market in the IT industry much better.
The importance of promoting Gdańsk is also emphasized by Grzegorz Borowski, the organizer of InfoShare since 2007 – the largest IT environment conference in Central and Eastern Europe, based in Olivia Business Center, with some of the events also taking place in the Gdańsk office centre: Olivia is definitely a good location for the development of companies from our sector. We have a lot of IT companies here, ranging from the largest global brands like Intel and Amazon, through large service providers such as EPAM or SII, ending with a whole host of smaller local companies, also extremely important for the entire ecosystem. This is important in the context of access to human resources, but also their circulation. But Gdańsk and the Tri-City more broadly, based on many rankings, is the best place in Poland in terms of the quality of life. This helps in relocation, in attracting talents from outside the region to the Tri-City. It is strongly supported by local authorities and the regional development agency – Invest In Pomerania (with its "Live More Pomerania" program).
InfoShare has also established an academy that conducts IT training, whose board president Andrzej Kiesz also sees other factors that make Tri-City a  hub for the IT sector: Tri-City is definitely a space where the IT sector is developing extremely dynamically. And it's not just that we have a lot of attractive office space here, or that the Tri-City is a great place to live and relax. It's about the entire IT ecosystem. The Tri-City has a full range of companies operating in IT, from global giants (Amazon, Intel, Nordea, Acoustic, Nike), through service providers (SII), to local and dynamically growing companies, e.g. SentiOne, GetResponse or Speednet. There are also companies where IT is not the core of their business, but have very extensive technological departments, such as LPP, Hapag-Lloyd or Wirtualna Polska. Virtually every IT engineer will find something for themselves. The development of the IT ecosystem is additionally actively supported by Invest in Pomerania, which helps companies to start operations in the Tri-City. Moreover, it attracts talent to Gdańsk and helps such people to relocate.
The success of local businesses further promotes the city
However, not only the support of local institutions plays a role in creating the synergy effect. Business also plays its part in drawing programmers' eyes to Gdańsk. InfoShare, a meeting place for experts from virtually every corner of the globe, also contributes to the promotion of the capital of Pomerania. Our events are attended by a huge number of participants from outside the region and from abroad, thus getting to know the offer of companies from the Tri-City, whether in terms of potential jobs or possible new investments (building branches here) – says Grzegorz Borowski. 672 startups from 50 countries took part in our startup competition in 2020. For many of them, it is the first contact with our region, and the information we receive from them clearly shows that it is not the last one. Our activities develop the competences of employees of local IT companies, giving them access to recognized global experts (over 180 speakers representing all continents took part in the last Infoshare). Recent years have seen not only the implementation of the largest technology conference in this part of Europe (over 6,000 participants in 2019 and over 7,500 as part of online conferences this year), but also many other projects (e.g. Pipeline Summit, Future3, Tech3Camp, Poland Prize) supporting development and education of programmers, managers, founders of startups, as well as promoting the potential of Pomerania.
The IT segment is characterized by dynamic development of enterprises, but also periodic needs resulting from design orders, which is why an office space bank, available in the place where their companies are located, is so important to them.
We started our activity in Poland in 2018. We were looking for a very small space with the possibility of expanding it over time. – says Bartosz Bandzioch from Predict X. It was caused by our ignorance of the Polish market. We didn't know if we would be able to find the right specialists. Coworking O4 in Olivia was the obvious choice. For us, the key condition was the possibility of expanding the office as the company grows. Perhaps in the future we will also rent space directly from Olivia Business Centre. It all depends on the development of the Polish branch and the number of projects implemented for our mother company located in London. Despite all possible office moves, the address will remain the same. Only Olivia in the Tri-City gave us such an opportunity. – emphasizes Bartosz Bandzioch.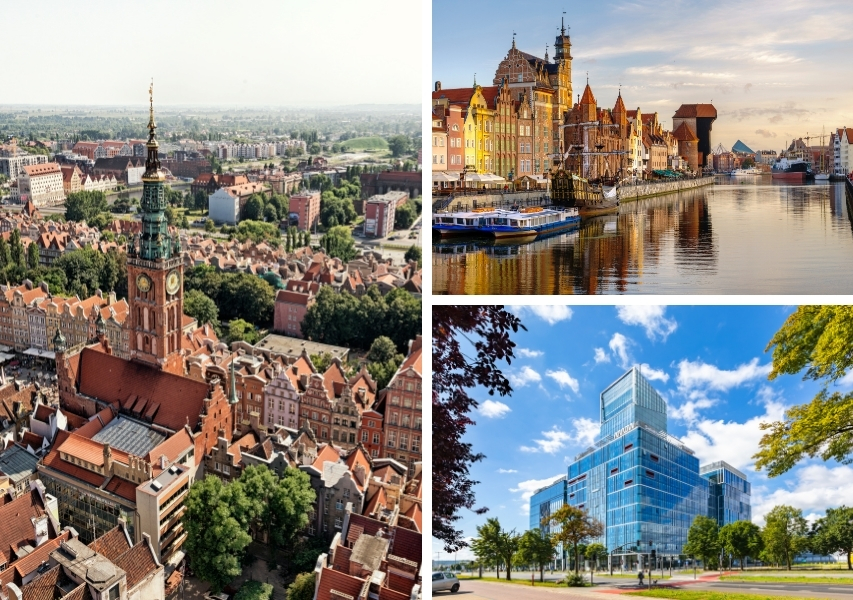 Synergy helps you grow
Well-conducted promotion of the city contributes to attracting investors, but in itself it is not a factor that allows business to develop dynamically. Representatives of the IT sector emphasize that one of the key factors that allows them to expand their opportunities is to operate in the environment of much larger companies with which they cooperate. This is confirmed by the founder of InfoShare, Grzegorz Borowski: Having been at Olivia for several years, we can see a lot of benefits from functioning in this environment. We already work with many companies with their offices in the centre, but this environment in itself facilitates establishing new relationships, including business ones. We organize some of our events, such as Tech3Camps, here, knowing that for many of their participants this location is very comfortable. Bartosz Bandzioch from Predict X sees it no differently: We are currently working with 6 companies. We work with most of them during the recruitment process for our company. We also use the services of PR companies as well as a law firm. Certainly, easy access to these companies made our development easier. We can efficiently discuss all matters on the spot. The mere presence in Olivia has also resulted in greater recognition of our company on the IT market.
Develocraft, a company that creates applications, mainly for the Scandinavian market, also emphasizes that by locating its headquarters in a business hub, it achieves tangible benefits. According to Michał Bułakowski, responsible for the company's marketing, the place where the company is based allows the company to be properly positioned in the eyes of customers: The very location and a modern office complex build trust among customers with whom the company has not had contact before. Being in this place certainly helps in broadening the horizons and the possibility of easy access to people with various skills. O4 Coworking gives us particularly favorable conditions, and in Olivia we cooperate with other companies. One of our local projects is the Olivka app, which we have prepared for the Natka restaurant. Michał Bułakowski also admits that their company cooperates with about 10 companies based in Olivia. Also in this case, these are not only their customers, but also companies that Develocraft entrusts to provide services.
An old maxim says that if you want to catch a big fish, you can't go fishing in shallow waters. The reputation of Gdańsk, which has been built over the years, makes it easier for companies to acquire clients and employees, but when analyzing the statements of successful entrepreneurs from the IT sector, the right choice of the place where the business will be located is also of great importance in the success.