Some words about the Inaugural Gala of Kropelka Energii Foundation…
The ceremony of granting badges and diplomas to honorary blood donors, the lecture by Prof. Andrzej Hellmann and doctor Michał Taszner from Haematology and Transplantology Clinic of Medical University of Gdańsk entitled "Opportunities for treatment with blood and the role of Honorary Blood Donors", as well as presentation of the current activity of Kropelka Energii Foundation in Olivia Business Centre, were the main elements of Kropelka Energii Gala, which was held on December evening of the St. Nicolas Day in Olivia Sky Club.
The honorary guests of the Gala were for example Wiktor Tyburski – Director of the Regional Centre for Blood Donation and Haemotherapy in Gdańsk, Halina Lewkowska – Board Member of Kropelka Energii Foundation, Anna Rychłowska – Head of Donors Department in the Regional Centre for Blood Donation and Haemotherapy in Gdańsk, Maciej Grabski – Olivia Business Centre CEO, Andrzej Blok – Member of PCK (Polish Red Cross) Pomeranian District Branch, Deputy Chairman of the Pomeranian District Council of Voluntary Blood Donation and many honorary blood donors.
Olivia Business Centre has been supporting the action from the very beginning. Many partners, for example centre's residents, participated in blood donation campaigns organised in Olivia since OBC is not only a workplace, but also a unique community. All willing persons can give their most precious gift in Olivia, starting with centre's employees and ending with Tricity's residents and its guests. Blood donor buses of the Regional Centre for Blood Donation and Haemotherapy can be found, as always, at C parking lot next to Olivia Business Centre.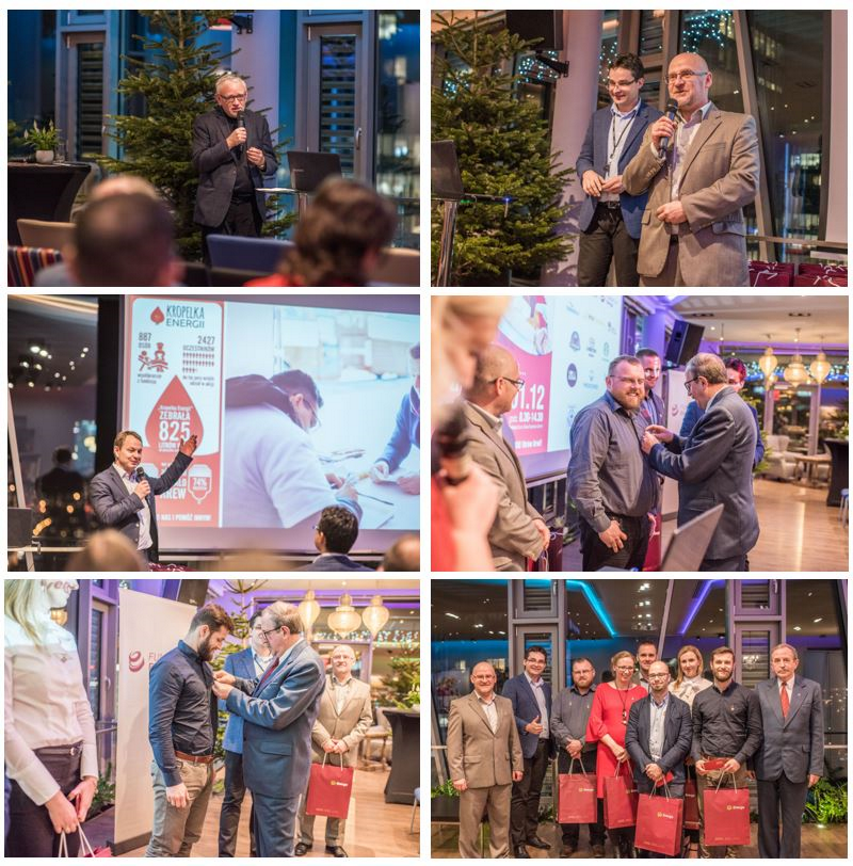 ENERGA "Kropelka Energii" Informal Honorary Blood Donors' Club, which has been an employees' initiative in the biggest energy company in northern Poland since 2012, has been effectively helping save people's lives and health. Currently, it is functioning as Kropelka Energii Foundation. From the very beginning, Tomek and Piotrek, Energa's employees, who contributed to creating this noble initiative, wanted Kropelka Energii to be available for every donor. Establishing the foundation made their dreams come true. As they say, while organising the first blood donation campaign, on August 8, 2012, they had many doubts about the future.
– Thank you that you trusted us then. Please remember that… "Being a Donor is a great honour". We would like this motto to encourage everyone to act and help other people – say unanimously Tomasz Rubanowicz and Piotr Krysiński, president and vice-president of "Kropelka Energii" Foundation's management board.
Within these five years of Club's activity, Energa Group's employees and their friends managed to collect nearly 830 litres of blood, from which 244 litres were obtained in 2016. With every new action, there are more and more people who decide to share the most precious gift of life. Similarly, there are more and more needs of health care.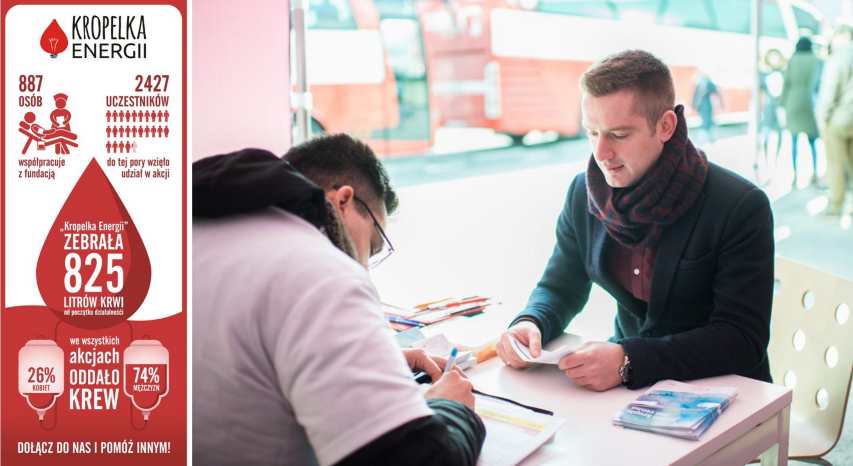 – The need for blood and its ingredients is incessantly growing. The change of the form of club's functioning was necessary to expand organisational possibilities, which result from the need to develop the project. I am very glad that we received such a great support from Energa Group's employees. Thanks to them, we had motivation to strive to achieve our goal – said Tomasz Rubanowicz. – We would also like to thank all partners of Kropleka Energii, without them we wouldn't be where we are today – added Piotr Krysiński.
Extensive photoreport from the event
More information on Kropelka Energii Foundation:
Objectives, which result from foundation's charter, concern:
Help in saving people's lives and health;
Promoting and popularising the idea of voluntary blood donation throughout the country as an irreplaceable method of saving people's lives;
Integrating the environments of Honorary Blood Donors – through the exchange of shared experiences during various environmental meetings regardless of being a member of other non-governmental organisations, that is associations, foundations or Honorary Blood Donors Clubs;
Initiating and supporting innovative solutions in different areas of social life, especially in the area of human rights protection and, engaging in charitable activities, protecting and promoting health, work in support of science, learning, education and upbringing, improving the functioning of public administration, activities, which support the development of local communities, life saving and civil protection, helping the victims of catastrophes, natural disasters, armed conflicts and wars in Poland and abroad, promoting and organising voluntary service, actions supporting European integration and developing contacts and cooperation between societies;
Activities in favour of organisations, which statutory objectives are as follows: activities within the scope of science, science and technology, education, culture, physical culture and sport, environmental protection, charity, protection of health and social assistance, vocational and social rehabilitation of disabled persons.
 THANK YOU ALL FOR TAKING PART IN PROJECTS! 🙂