Atos, an international IT company operating in 72 countries, has opened its office in the Olivia Four building at Olivia Business Centre. 100 specialists employed at the Atos Group Tri-City division provide the most complex and innovative IT solutions to the largest companies and institutions in Poland.
"We have chosen Olivia Business Centre for its excellent location and the highest standard of the building," says Wojciech Kawecki, Director of the Atos Office in Gdańsk. "At Olivia Business Centre, we shall be able to increase the number of employees in the future. Further, the new office is very comfortable, thereby helping the whole team work in a more creative and efficient manner. Our company participates in the Great Place To Work programme and our new office perfectly fits the name of the programme."
Atos is one of three largest IT integrators in Poland and a market leader developing and maintaining IT solutions that support customer service and self-service. The company works with the major players of the Polish telecom, finance, energy, industry and public sectors. The team of 900 specialists employed at Atos offices in Warsaw, Łódź, Gdańsk, Toruń and Wrocław supports customers throughout the process of IT solutions development and operation. The client portfolio includes T-Mobile, Orange, mBank, Bank Millenium, Meritum Bank, PLL LOT, the Ministry of Finance, the Ministry of Justice, the City of Poznań and PGNiG.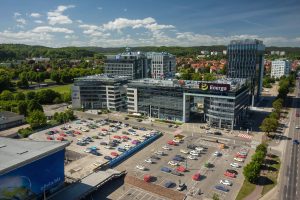 Atos occupies 967 sq m at Olivia Four. The premises on the eighth floor afford a beautiful view of the historical Oliwa district of Gdańsk and the Tri-City Landscape Park.
"The calm landscape outside the window is contrasted by the modern interior design, with its vivid colours and the characteristic triangular pattern of the office floor. The relaxation area carpet, soft and green, just as grass, encourages lying down regardless of season," says Laura Susmarska, Senior Project Manager at Olivia Business Centre, responsible for the fit out of the Atos Poland office at Olivia Four.
"We are happy to see the Tri-City branch of Atos grow and move to Olivia Business Centre. For the company, this choice means not only access to the constantly growing space of our office complex and its prestigious business environment, but also a chance to attract the qualified academic staff of higher learning institutions we collaborate with, as well as programmers trained by Infoshare Academy having its headquarters at Olivia Four too. We do hope that all this will make further development of Atos easier," says Maciej Kotarski, who is responsible for the Olivia Business Centre commercialization.
About Olivia Four
O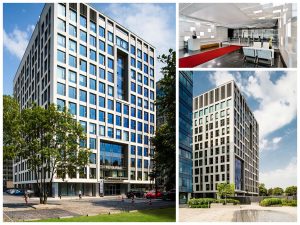 livia Four is a 11-storey A-class office building, the 4th stage of the Olivia Business Centre project. Its characteristic white and glass body houses 14,700 sq m of the leasable floor area. Launched in March 2014, Olivia Four is home to such companies as: Acxiom, Allianz, Alnet Systems, Competence Call Center, Epam Systems, Generali, HK Finance, LOTOS-Air BP, Moore Stephens, Omida Logistics, Playsoft and Schibsted Tech Polska.
Olivia Four offers space not only for international corporations, but also for start-ups and SMEs. Namely with this in mind, the ground floor, as well as the first and the second floor of the building have been designated as a space for innovation development, with a multimedia conference centre, a variety of office premises as well as a co-working space with desks rented by the hour and a common space for the users. Furthermore, the Five canteen chain has opened its first cafeteria in Tri-City namely at Olivia Four.
The main lobby of Olivia Four is considered to be one of the most beautiful office entrance halls in Tri-City. Tiled with Tuscan Bianco Carrara and Spanish Nero Marquina marble, the foyer is furnished with the iconic Barcelona Chairs designed by Ludwig Mies Van Der Rohe for the 1929 International Exposition in Barcelona.
About Olivia Business Centre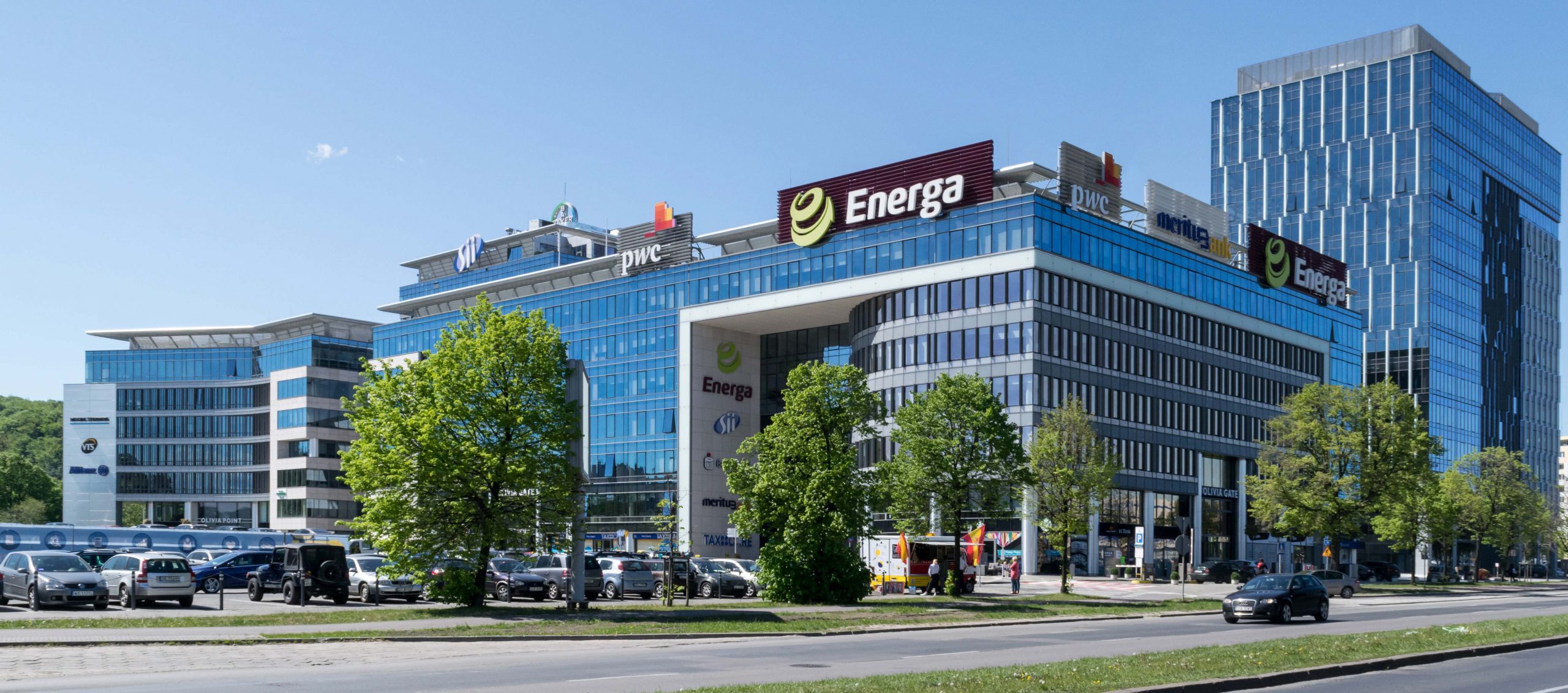 Olivia Business Centre in Gdańsk is the most modern office complex in Northern Poland. With its target floor area of 170,000 sq m, Olivia Business Centre will be Poland's largest office scheme. It is home to Alior Bank, Allianz, Amazon, Bayer, Energa, Noble Bank, PKO BP, PwC, Sii, ThyssenKrupp and many other companies. With one new building launched each year, the Centre has been constantly growing since 2010. But there is much more to Olivia Business Centre than buildings. Business, educational, cultural and sports events are held on a regular basis here. Residents are welcome to use 3 conference centres, a medical centre with a pharmacy, 3 restaurants, a Starbucks coffee shop, a day nursery and a nursery school, 4 banks, a modern gymnasium, a beauty salon, a notary's office and an electric vehicle charging station. The Centre provides open air and underground parking facilities for over 1600 cars, 200 bicycle racks and 5 changing rooms with showers. In 2016, a two-storey CityFit fitness club will open.