Acxiom Global Service Center has leased the entire floor at the Olivia Four office building composing the Olivia Business Centre in Gdańsk. Designing the office décor is coming to an end and some of the designs were created by Acxiom employees. The company plans to move in early 2016.
For over 40 years, Acxiom has been a world leader in delivering, analysing and managing information about customers. Operating in Tricity since 2008, Acxiom Global Service Center will have its offices at the Olivia Four building in Gdańsk starting from February 2016. GSC provides the services of comprehensive IT support for Acxiom customers and offices all over the world. The American company has its branches in Germany, France, UK, Poland, Australia, China, Japan and Brazil.
'We want to create as comfortable conditions to our employees as possible,' says Ewa Orłowska, Administrative Services Manager at Acxiom. 'As it develops and requires consolidation, Acxiom has sought modern space in a good location, not too distant from its current offices, offering possibility for further growth. Olivia Four has proved to be an interesting option and its advantage is the business environment, among other things.
Eco-friendly and committed office décor
Currently, works are ongoing on the décor of the space the company leases. Apart from well-equipped work stations, it will accommodate a superbly equipped relax room with billiards, darts, a TV set and a video game console as well as a kitchen with a spacious cafeteria. The fragments of the walls will be covered with black blackboard paint and cork facing and the meeting rooms will have painted glass boards. Some of the rooms will have open ceilings left.
'This space will gain a unique character owing to the resident's great dedication to the project. The best example of this is that the design of the fitted carpets was made to an Acxiom employee's idea', says Laura Susmarska, Senior Project Manager at Olivia Business Centre, in charge of the décor in the GSC Acxiom offices at Olivia Four. 'Grey and green, that is, the colours of Acxiom, will be softened with an intense shade of orange, creating a very dynamic composition reflecting the company's character and its employees' young spirit and commitment.
The new offices of Acxiom GSC will have eco-friendly New Horizons and H-727 fitted carpets made by Interface.
'It is another expression, after the certification of the buildings to the strict BREEAM system, of the concern Olivia Business Centre has for the natural environment', comments Laura Susmarska.
These carpets are made using power derived in 100% from renewable sources, where no waste products are generated. To fix them, instead of a fixing liquid, special stickers are used, made of unnecessary plastic bottles. What is more, used Interface fitted carpets will go back to the factory, instead of the garbage dump, where the base will be separated from the fibres. The former will return onto the production line, while the latter will be used to make new fibres.
Cooperation with JLL experts
In the process of seeking the location and negotiating the terms of the agreement, Acxiom GSC was represented by JLL experts.
'We are glad that we can liaise with Acxiom in Poland on determining the long-term lease strategy, including seeking new offices in Tricity', adds Magdalena Reńska, JLL Tricity Branch Director. 'This region is now one of the strongest locations in Poland for the projects of the modern business services sector, particularly the IT branch. The activity of investors winning new orders, hiring new employees and searching for new larger offices translates into the dynamics of the office market growth which, since 2008, has been twice as big and continues to develop dynamically.
About the Olivia Four building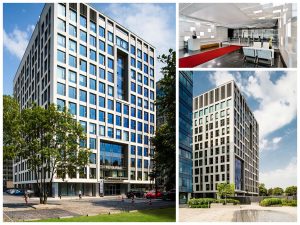 Olivia Four is an 11-storey Class A office building constituting stage 4 of the Olivia Business Centre project. Its distinct white glass mass has over 14,700 sq. m of office space for lease. Since it was commissioned in March 2014, Olivia Four has hosted the offices of such companies as Allianz, Alnet Systems, Competence Call Center, Epam Systems, Generali, HK Finance, LOTOS-Air BP, Moore Stephens, Omida Logistics, Playsoft and Schibsted Tech Polska.
Beside international companies, Olivia Four expects to house start-ups and small and medium-sized enterprises. Thinking about them as well, the ground, first and second floors of the building are intended for the O4 innovation development space, combining a multimedia conference centre, office spaces of different areas, coworking space with desks for lease by the hour and a social part. In addition, Olivia Four houses a Five canteen. It is the first canteen of that chain in Tricity.
The main hall in the Olivia Four building where Acxiom will move is considered to be one of most beautiful in Tricity. It is tiled with Tuscan Bianco Carrara and Spanish Nero Marquina marble. You can find the iconic Barcelona furniture in the lobby, designed by Ludwig Mies Van Der Rohe for the 1929 international exposition in Barcelona.
About Olivia Business Centre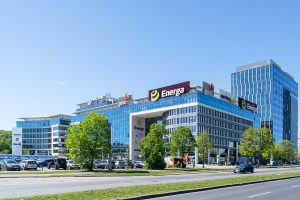 Olivia Business Centre in Gdansk is the most modern business centre in northern Poland. Its ultimate area will amount to 170,000 square meters, which means that Olivia Business Centre will become the biggest office complex in Poland. Inter alia the following companies have opened their offices here: Alior Bank, Allianz, Amazon, Bayer, Energa, Noble Bank, PKO BP, PwC, Sii, ThyssenKrupp. The Centre has been systematically expanding since 2010 at the rate of one building per year. Olivia Business Centre is however much more than just buildings. Business, educational, cultural and sports events are regularly held at OBC. The Centre's tenants have an access to, inter alia: 3 conference rooms, medical centre with pharmacy, 3 restaurants, Starbucks café, kindergarten and nursery, 4 banks, modern middle school, beauty salon, notary, point for charging electric cars. The Centre has over 1600 parking places, including underground ones, and over 200 bicycle racks and 5 changing rooms with showers. A two-floor fitness studio CityFit will be opened in 2016.