Prime B, the newest building from Olivia Business Centre, has been enriched with a pocket garden created by Maura Zaworska and Łukasz Plata, Polish landscape architects.
Greenery in urban space has been a hot topic lately. Investors tend to treat greenery as a barrier to the investment implementation processes, having many months of disputes with officials and conservation officers over the possibility of cutting down standing trees. Meanwhile, it is difficult for experts in the subject to overestimate the role of green spaces in the maintenance and development of human well-being. This essence is well understood by Olivia Business Centre, which has just completed work on creating another green area in its public areas.
This time it is a new pocket garden. The concept of a pocket garden or park assumes the creation of greenery between built-up plots, constituting an enclave of plantlife in a more or less compact urban development, among even the most urbanized parts of the city. Briefly, it can be described as introducing greenery into even the most densely built-up areas. This concept comes from the United States. One of the first pocket parks is Paley Park, founded in New York in 1967. In Poland, the trend of creating pocket parks became popular only in the second decade of the 21st century. As a curiosity, it can be added that pocket parks were established in Gdynia just after World War II, but this name was not used yet.
Reading and creating the relationship between nature and the city is a design process that is constantly changing. – says Maura Zaworska, responsible for the pocket garden design at Olivia Business Centre. This is an inspiration for me – creating new spaces filled with greenery. For centuries, man treated his natural part of being as something external that must be mastered and disciplined. Changing the way of thinking about oneself and perceiving oneself as a being that is part of nature and whose nature is the creation of culture, has recently led to a reconceptualization of the relationship between nature and the city, and consequently to the emergence of a design trend consisting in "recreating landscapes". Treating nature and the investor's requirements as complementary and interrelated elements in a non-accidental manner set the idea of ​​the project similar to the idea of ​​pocket parks.
The new pocket garden is filled with a total of 50 plant species and covers the area between Olivia Star and the Prime B building. The investor's goal was to create a friendly green space that actively affects people. When creating this space, Maura Zaworska set herself the goal of stimulating all human senses: The sensual garden activates the sense of sight through the introduced colors, touch, thanks to vegetation with different leaf textures (needles), smells; if plants are included that emit an intense aroma (hyacinths and herbs), hearing, thanks to the grasses rustling in the wind, and the birds that may fly in, as well as taste, because as a curiosity I would like to add that the świdośliwa that grows in OBC has edible, exceptionally tasty fruit. I applied all the above-mentioned treatments in OBC gardens, hoping to meet the needs of employees and visiting guests. – emphasizes Maura Zaworska. Moreover, the greenery has also been designed in such a way that it shapes the surroundings in various ways at different times of the year. The plant composition involves the introduction of white, pink and black colors in spring, blue, lavender and white in summer, yellow and orange in autumn and red in winter. The whole is arranged in a way that allows to maintain the continuity and decorative effect in the aspects of subsequent seasons. It can be said that subsequent colors turn on and off each year, symbolizing the continuity and changeability of phenomena taking place over time – adds Maura Zaworska.
The creators of the project also took into account the psychology of landscape architecture, so that the effect of their design would bring additional benefits, not only for the target users, but also for the residents of the office centre. There are places that their users can indicate as liked the most – says Maura Zaworska. They know about them and identify with them. These places have a different character – sometimes so strong that it influences the formation of human relations with them and individual plants. Thanks to this, they feel that they belong to this place and create a kind of community with the vegetation. Over time, this place becomes a domesticated space and gives them a sense of identity and continuity. A kind of genius loci is created, i.e. a place in relation to which a special type of bond is felt, conditioned by the strength of human relations with natural space. So, following this track, it turns out that investing in green areas not only increases comfort rt and work culture, but directly translates into professional achievements and a sense of belonging to a place where the employee feels good.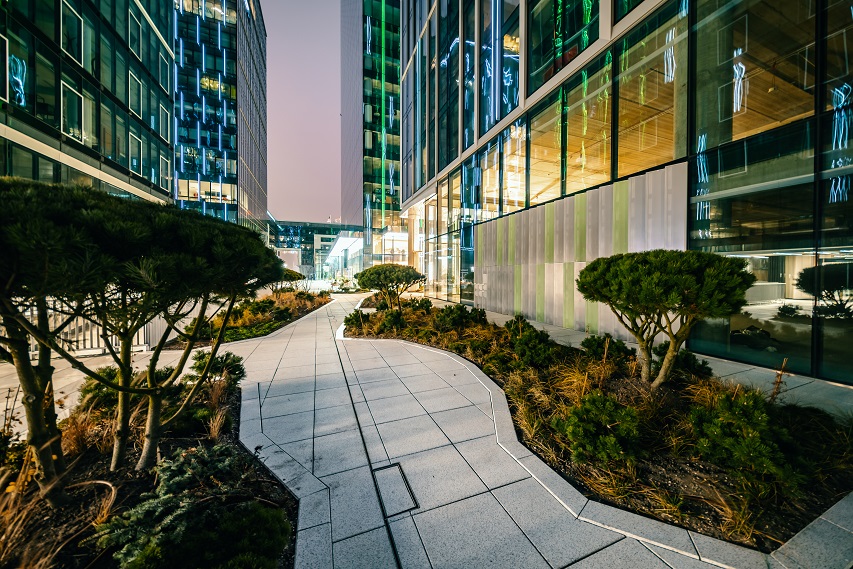 Residents of the Olivia Business Centre have at their disposal 24,400 m2 of green spaces within its premises or in the immediate vicinity. These are complemented by green terraces on the roofs of Prime A and B buildings, on the second floor of Olivia Star and on the link between Olivia Point and Olivia Tower, at a height of 7 floors. The Olivia Garden winter garden is also under preparation. Its official opening is planned for spring 2021. Alternatively, a short walk provides access to the shore of Gdańsk Bay or the rich forests of the Tricity Landscape Park.
Olivia Business Centre in Gdańsk is the largest and most modern office and business centre in the Tri-City agglomeration. Its target size will significantly exceed 200,000 sq m, and it is already 175,000 sq m, making Olivia Business Centre the largest office project in Poland. Olivia's largest residents are Airhelp, Amazon, Arrow, Bayer, Deloitte, Energa, EPAM, Fujifilm, Nordea, PwC, Ricoh, Sii, Staples, ThyssenKrupp. Olivia Business Centre is also much more than just buildings. Several hundred business, educational, cultural and sports events take place here every year. The office centre has a unique combination of services and amenities for tenants and guests, consisting of eight restaurants, 4 cafes, a professional two-story fitness centre, a nursery and kindergarten for 100 children, a primary school, high school, IT academy, medical centre, dentist, a pharmacy, 5 bank customer service points and 5 conference centres, O4 – one of the largest coworking spaces in Poland, and also an extensive patio filled with plants, fountains and places to rest. Subsequent OBC buildings received high ecological certification marks from BREEAM, ranging from very good to excellent level. In July 2019, a unique project was launched on the 32, 33 and 34 floors of Olivia Star, the tallest building in northern Poland.The additional offer attracts guests from around the world to Olivia Business Centre. On the 32nd floor, a public viewing level has been opened, allowing a 360 degree view of the entire Tri-City. It offers not only a stunning panorama of the Gdańsk Bay, the Tricity Landscape Park and Gdynia's cliff coast, but also originally designed interiors, dining and recreational facilities. On the 33rd floor of the building there are two prestigious restaurants: Arco and Treinta y Tres, run by Paco Pérez, one of the most successful chefs in the world. Finally, on the 34th floor, at an altitude of almost 160 meters above the ground, a multifunctional conference centre, the highest in Poland, was created. Olivia offers over 1,600 parking spaces, a number of charging points for electric cars, points for storing and charging electric scooters, several hundred bicycle stands and large changing rooms with showers for cyclists in each of the 7 buildings.