During a conference in Olivia Business Centre, Bayer announced its plans for further development of Service Center Gdańsk and summed up 5 years of its business activity in Gdańsk. Markus Baltzer, CEO of Bayer CEE and Remigiusz Wojciechowski, director of Bayer Service Center Gdańsk emphasised that Tricity is one of the most popular locations for modern business services and at the same time pointed out that more and more advanced processes, competence centres and R&D centres are located here.
The director of Bayer Service Center Gdańsk (SGC) also pointed out that the company has further plans connected with improving the scope of operated processes. Currently, SGC employs about 400 workers, however originally it was expected that it would employ 200 workers, and serves Bayer's departments from more than 20 countries of Central-Eastern and Central Europe, for example from Germany, Russia, Scandinavian and Balkan countries. Apart from accounting, specialist teams from the Centre in Gdańsk, localised from the very beginning of its business activity at Olivia Business Centre, are today also engaged in project management, graphic design or support in the scope of transparency.  
 – Within 5 years the number of jobs offered by business services sector has doubled both in Tricity and in Poland. Bayer Service Center Gdańsk has also developed dynamically – we have created several hundred jobs, invested more than 1.5 million zlotys in training and development of workers and 20 persons have learnt in our company how to manage a team or department. But we are not going to stop here. Till 2020, we plan to increase the number of workers to 500 people. Additionally, our team will be supporting key business processes from new areas, for example shopping, customer service, controlling or services for workers. Just like today, workers will have a chance to develop their careers without limitation – said Remigiusz Wojciechowski, director of Bayer Service Center Gdańsk.
In Gdańsk, Bayer company found everything that is needed for long-term development, that is highly qualified employees, support from public institutions and access to top-quality office space and transport infrastructure. Piotr Grzelak, Deputy Mayor of Gdańsk, who was present at the event, congratulated Bayer on its anniversary and emphasised that he is happy with every stage of company's development in Olivia and Tricity.
– Bayer's achievements are extremely important for us. Bayer is not only an investor which employs, but also the one which helps us tell the world that Gdańsk is a perfect place and hospitable environment for respected international brands and enterprises – said Piotr Grzelak.
– Bayer's strategic aim is to centralise financial services and support of business, IT and project management in order to make processes flexible, improve efficiency and increase competitiveness, while maintaining the current, high level of quality. That is why, shared services centres are an essential element of company's structure both in regional and global scale – said Marcus Baltzer, CEO of Bayer CEE, during the conference.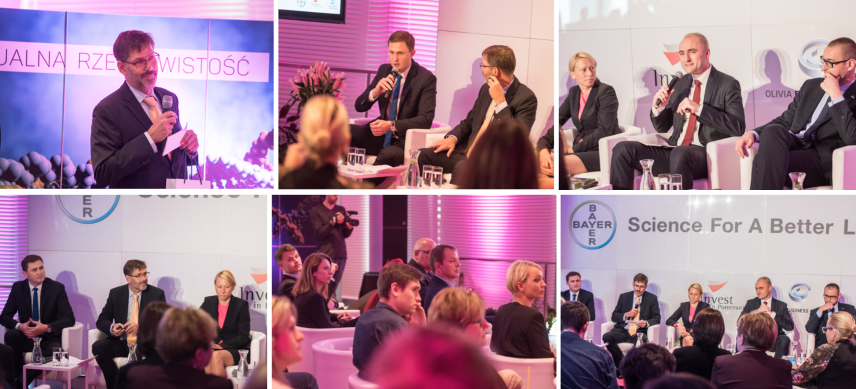 Tricity just like a magnet
Not only Bayer appreciated business potential of Pomerania region. According to ABSL report from 2016, Tricity is the second best location for modern business services in Poland.  At this year's CEE Shared Services and Outsourcing Awards ceremony, Tricity agglomeration got the title of the most dynamically developing centre, for example thanks to 10 investment projects carried out in 2016 with the participation of Invest in Pomerania.
– Investments in the sector of modern business services support the development of Tricity market. We are one of the most dynamically developing Polish agglomerations and Tricity is in a leading position in rankings concerning friendly places to live in Poland – emphasised Wojciech Tyborowski, director of Invest in Pomerania.
Tricity is a perfect place to live, what is confirmed by studies conducted by Social Diagnosis, according to which Gdynia and Gdańsk residents are the most satisfied with their place of living. This is also a good place for business development, especially in the face of rapid rise in the need for managing more and more complicated business processes. The development of shared services sector is the result of creating the most effective models of corporation's functioning, within which using external resources causes the increase in effectiveness. Modern business services offer highly advanced processes based on knowledge and experience. Such processes are managed by about 120 Tricity centres of modern business services, which employ about 21000 workers. Predicted employment growth amounts to 20% per year, what will make it possible for Pomeranian centres to reach the result of 60000 workers till 2025.
Numerous incentives for business
Tricity is very well prepared for cooperation with investors in terms of office infrastructure. It offers nearly 633000 square metres of modern offices and another 150000 square metres is under construction. Such resources make it possible for new investors or companies already present in the market to open a new office within two to three months.
– We are proudly observing the development of Bayer company at Olivia Business Centre. For five years, the company has been creating economic and human potential of Gdańsk intensively and with involvement and at the same time makes an important contribution to the growth of market competitiveness of our whole region – said Maciej Grabski, CEO of Olivia Business Centre. – We wish its employees and co-workers indefatigable energy and further measurable successes. I deeply believe that the whole company will contribute to them.
The development of modern business services sector is fostered also by the cooperation of Pomeranian universities with investors who are present in the region.  The specialised curricula emerge at universities and they respond to the needs of individual companies. Local students are distinguished also by great command of foreign languages, also those less famous like for example Scandinavian or Balkan.
The market of a valued employee
Growing specialisation, innovative technologies and advanced business processes change the labour market. In the years 2013-2016 employment in Tricity business services sector increased by 100%. Over the past few years, many corporations moved here and the range of companies with similar business profiles is getting bigger and bigger. That is why, companies fight to attract and keep employees. There is even stronger consensus concerning the fact that currently we are experiencing a so called "employee's market".
– Bayer offers SCG workers chances for development and career in international environment and improving qualifications by participating in projects and trainings.  Our relations with them are based on mutual trust, that is why we offer, among other things, flexible working hours and remote work. We also employ final year students and university graduates. This a chance to start your career in a global company with recognised brand, training package, internships, access to the newest technologies and opportunities for career development thanks to participation in interesting projects – said Remigiusz Wojciechowski from Bayer SCG.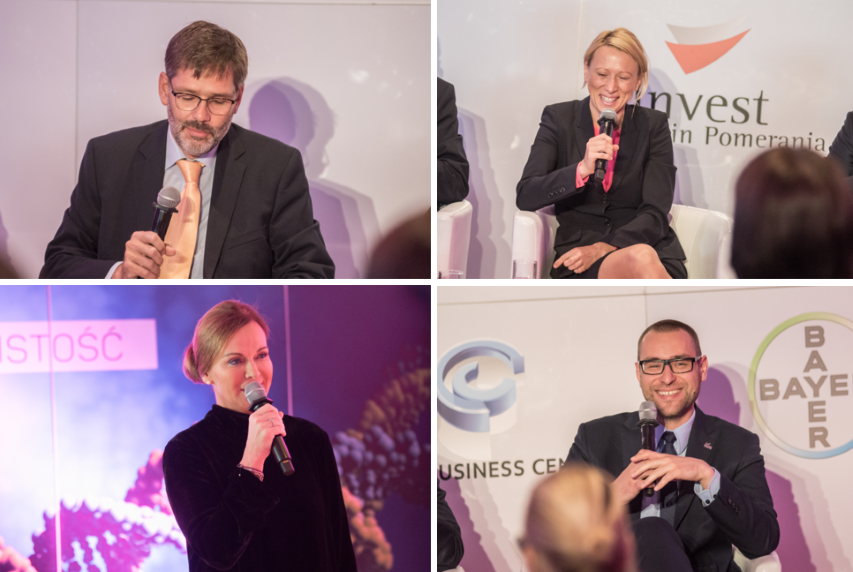 During the conference, Dorota Stawicka from Project Management Team, who started her career in SCG directly after her studies, talked about her career path in the company, opportunities for development, international cooperation and support offered by the organisation. 
Companies, which are active in business services sector, are aware that remunerations and non-cash benefits are only one of many parameters which make their offer attractive for future employees. It turns out that employment security, friendly atmosphere at work and company's stable financial situation are almost equally important.
 – Growing specialisation and modern business technologies change labour market. Companies are implementing newer and newer methods and tools which attract and keep employees. Looking for a job via social media has become popular and in many companies there is a programme, in which existing employees recommend candidates – said Agata Witczak, branch director and human resources director in Thomson Reuters in Gdynia.
Poland is the leader in European business services market
Poland is one of the most important locations for business services around the world. Investors, especially European ones, take into account relevant factors, for example employees' level of education and their command of foreign languages, condition of infrastructure and legal security, availability of office space, as well as work culture, innovativeness and even relatively small time zone difference between central offices and services centre. Growing employment in so called competence centres and R&D centres, as well as the following data are indicative of a fast evolution of business services market in Poland: about 85% of centres serves today more complex processes than a year ago.
Sources of data: 
Modern business services sector in Poland 2016, a report prepared by the Association of Business Service Leaders (ABSL) in cooperation with Baker & McKenzie, JLL and Randstad
Social Diagnosis 2015, Living conditions and quality of life of Polish people – Report, edited by Janusz Czapiński and Tomasz Panek
Invest in Pomerania data
Modern business services sector in Poland 2016, ABSL Report