The first(s) win!
Around the world, October is recognized as Breast Cancer Awareness Monthpeople struggling with the disease. The distinctive pink ribbon, an international symbol of the fight against breast cancer, will illuminate Olivia Star's façade on October 16 , the day of our event, and just after the European Breast Cancer Day. Once again, we want to remind the residents of the Tri-City about life-saving prevention. That's not all. Once again, Olivia is involved in the " First Ones Win" campaign, which is a grassroots initiative of amazing ladies – Natalia Cebula, Magdalena Pakmur, Ewa Opiela and Kamila Dymowska, who work for Energa, part of the ORLEN Group.
The project is substantively supported by the
Pink Butterfly Association
and the
Breast Disease
Center at the University Clinical Center. The campaign is part of Pinktober's global campaign to promote breast cancer prevention, traditionally held in October. The aim of the "First Ones Win" campaign is to change the perception of breast cancer and the fear of the disease and its treatment, as well as to ensure that cancer is treated as a disease that can be prevented by regular check-ups.
The event was held under the media patronage of
Radio Gdańsk
. We are also supported by
Trojmiasto.pl.

Therefore, on behalf of us, Energa Volunteers, we would like to invite you, Dear Residents and Neighbors, on October 16 at 12:00 p.m. on Olivia's patio. Just "Tie the ribbon with us!"
Tie a ribbon with us, or

the Pink

Ribbon
It is in fact a walk, a symbolic march with which we want to express solidarity and support for people affected by breast cancer. Among our Residents there are also oncological patients. Let's show that we keep our fingers crossed for them and support them with warm thoughts!
This year, we will try to set the route in such a way that its course resembles the shape of a tied ribbon, hence the motto. The symbol of the ribbon, weather permitting, will be drawn on the patio by children from our White Kitten Olive Kindergarten.
Participants will receive a warm-up coffee from Santander, a sweet treat and "anti-stress" in the shape of a woman's breast.
On the patio from 11:30 a.m. to 1:00 p.m . there will also be sA special tent that will house m.in. stations with phantoms, where you will be able to learn how to properly self-examine your breasts. There will be leaflets – a cheat sheet on how to get tested along with information on where to go for help.
At the end, as usual, we will take a souvenir photo.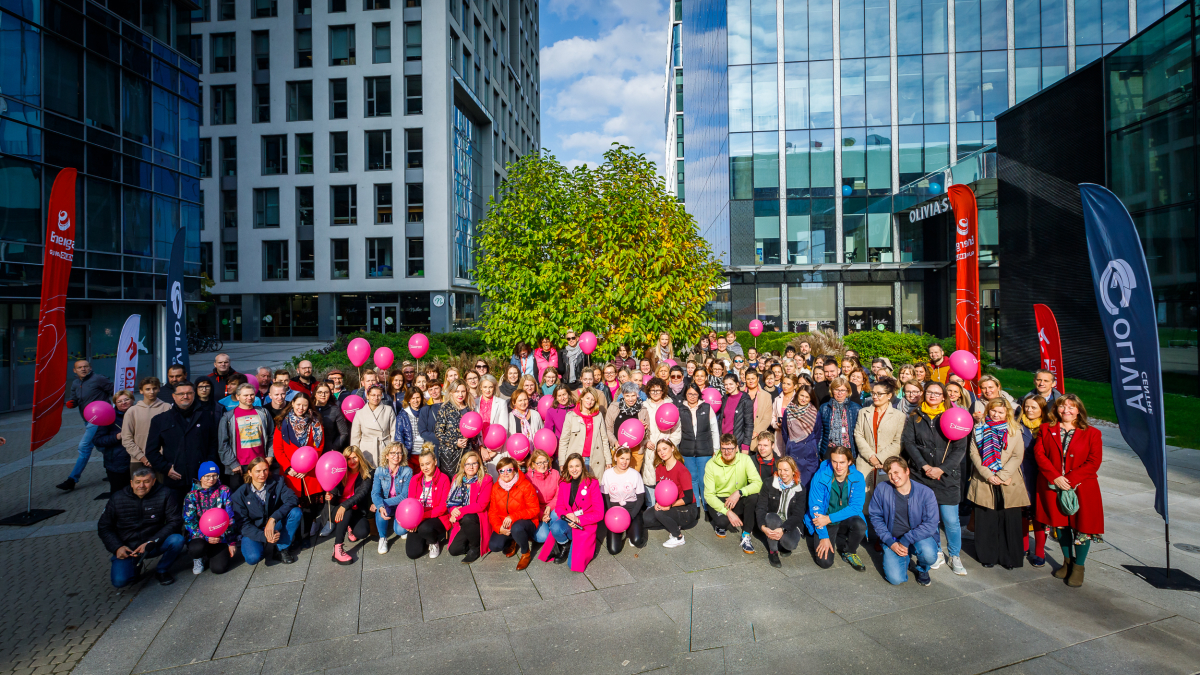 Fig. Maciej Roszkowski, Pink Ribbon Run 2022
Join! | 16.10. | Olivia Centre patio | 12:00
Breast cancer affects not only women, but also men, so we hope that men will also appear in large numbers at the starting line. Let's remember that early detection of breast cancer gives a good chance of complete recovery. So it's worth getting tested and, above all, don't be afraid to face it!
That was the case a year ago. Let there be even more of us!
Organizers and partners of the action