Introduction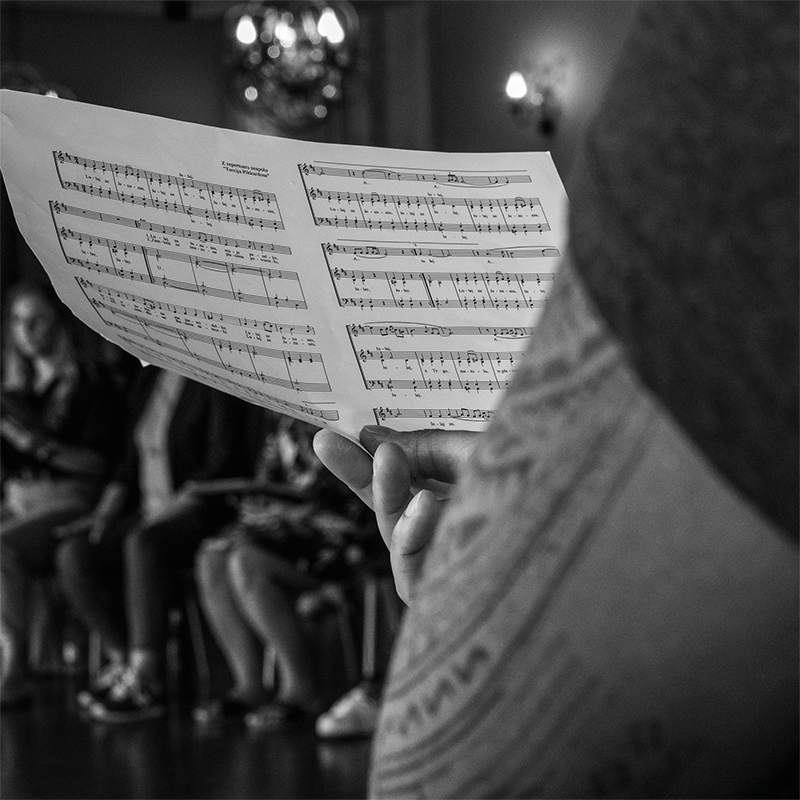 It is with real pleasure that we present to you the album - the effect of the work and talent of people whose paths met in Olivia and were joined by love for music. This is a unique album, it is woven of sounds, all the members' commitment and authentic emotions.
Perhaps some of you will be surprised by the album which was released by a business centre. However, this is one of those cases when, above all, we feel a community in which the choir plays an important role.
Olivia Centre Choir is a group of people working in various companies having their offices in the centre. It is a group that, after working hours, finds time among everyday obligations to develop their talent and enjoy making music together. It is this joy that we want to share today.
We present this album full of hope that the sounds recorded will bring you closer to the passion of the community that blossomed around the Olivia Centre and is constantly developing.
Chapter 1
Baton Wanted
It started inconspicuously. From the musical sentiment of one person - Remigiusz Wojciechowski from Bayer company. Music has always been important to him. Once, while sitting among the audience of the philharmonic hall, he remembered the emotions that accompanied him when he had sung in the choir. He thought he would like to have them in his life again. For that, people and a conductor were essential. There were plenty of people in the Bayer office, and a casting was announced for the conductor. Search covered the Tri-City and its vicinity, messages were sent, and telephones rang. After long talks, it was announced that Wiktoria Pagieła will be the conductor - a graduate of the Academy of Music in Gdańsk, an experienced conductor and winner of numerous competitions. This is how the Bayer staff choir was created and here we could write that the choristers and the conductor sang happily ever after. And while that would be true, it is worth adding a few details.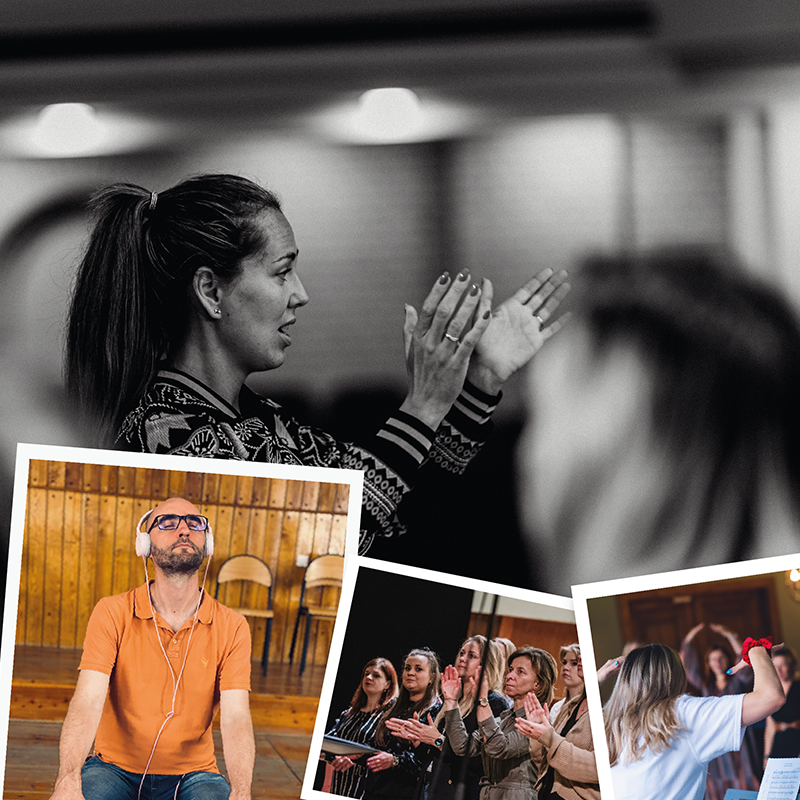 Remigiusz Wojciechowski, bass

My favourite moment in the choir follows the most difficult one: when we read a new piece and each voice painstakingly glues note after note. First the sopranos, then the altos, tenors and finally the bass. The energy level is low, a bit boring. Finally, there comes the moment when we start to put the voices together, even for a few bars. This is where the music and the joy of creating together begins.
Chapter 2
Everyone Wants to Sing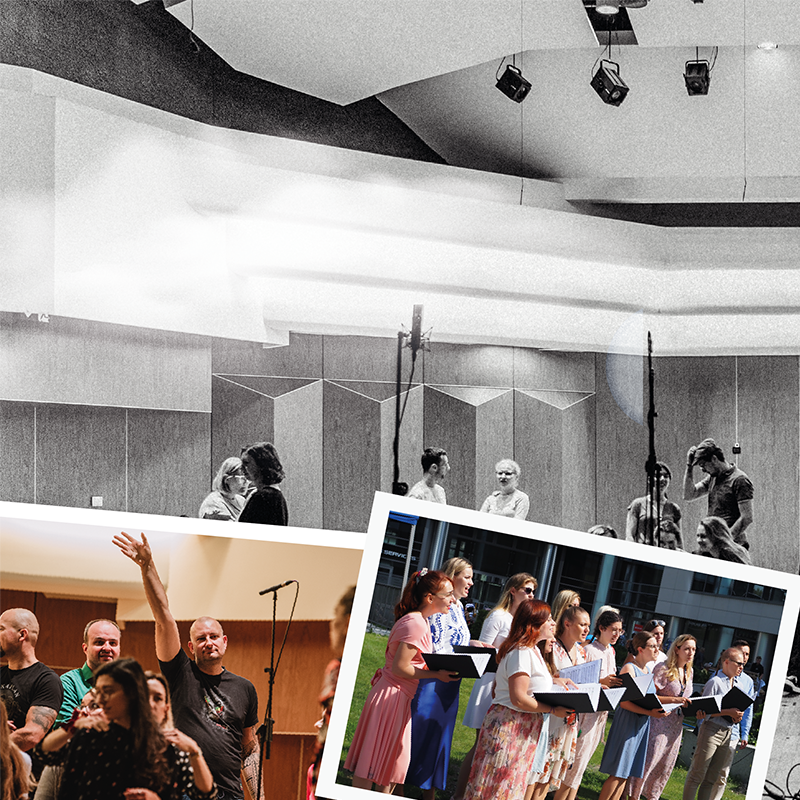 The news about the newly formed choir spread widely - the unusual initiative was impressive and it quickly turned out that fans of choral singing can be found among many organizations. Within a year, the Bayer staff choir became the choir of the entire Olivia Centre. And so, the team was joined by women and men, managers and specialists, seniors and juniors. They wanted to sing and they sang, and Wiktoria combined many voices into one tone with her baton.
Chapter 3
Debut Concert
They sang in the morning and in the evening, on the way to work and in the shower, they sang in offices and on walks, they sang at each rehearsal, with all their heart, until it was time to sing on stage. A spring concert called Olivia Camerata: All That Jazz! was organized. The first concert is unforgettable. Dressed in the evening wear, they performed three songs in front of a wide audience gathered at Olivia Star. There was no end to applause! The choir floated on the wave and a few months later performed with an even more demanding repertoire at a concert at Open House Gdansk.Common rehearsals and first successes brought people closer together. They liked to spend time together. Something important (and beautiful) happened between Ania and Wojtek. No wonder Shakespeare was right when he said that music is the food of love...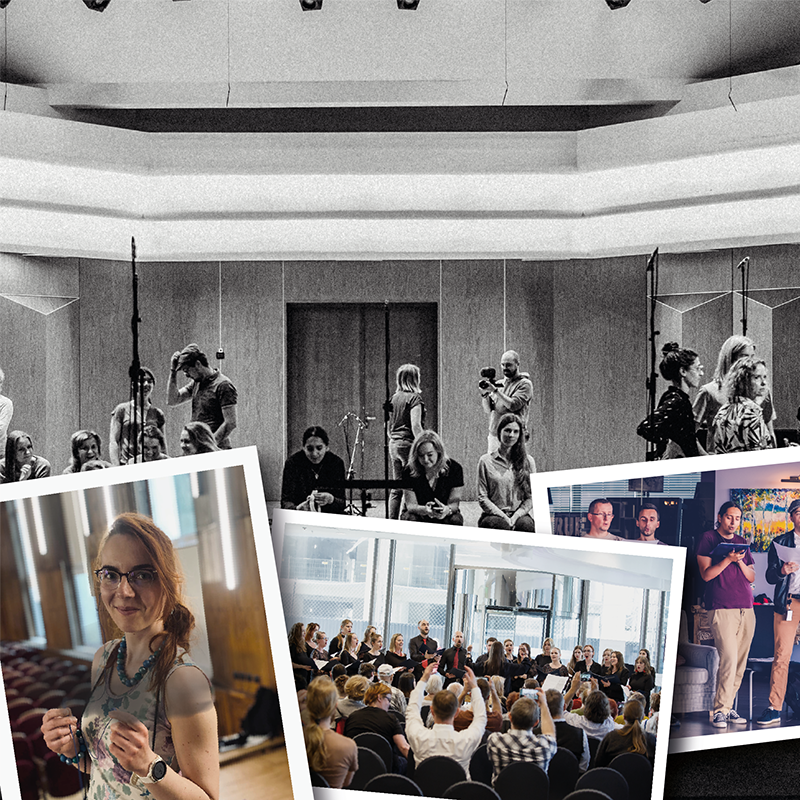 Anna Ficek, soprano

I have been part of the Choir since January 2019. The choir was for me a return to music, to singing that has always accompanied me. Thanks to the Choir, my, so to speak, childhood passion was rediscovered. I met wonderful people here and found love, not only for music.
Chapter 4
Silence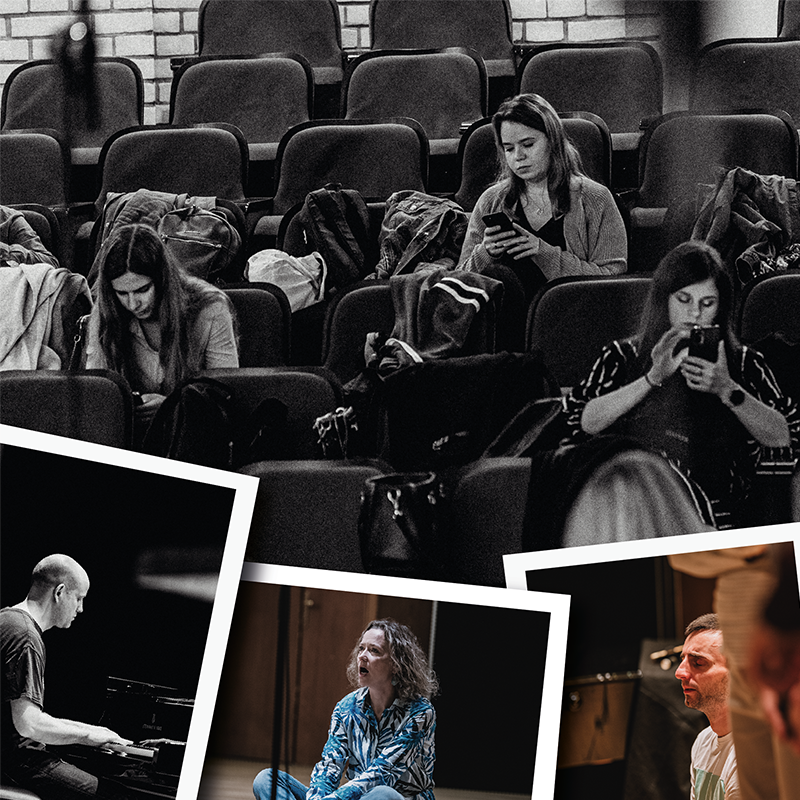 And then the pandemic broke out... Overnight, choir rehearsals were cancelled and meetings became impossible. There was no way to train your voice together, to look each other in the eye and enjoy singing together. But passionate people will always find a way to pursue it, so they started... online and distance rehearsals. Effort and determination were not in vain! The choir recorded their first video completely remotely, singing Sweet Dreams by Eurythmics.
Chapter 5
Spring
Fall and winter have passed, the time has come when the heart of every chorister was eager to music. Indoor rehearsals were still not a reasonable idea, so the choir hesitantly began practising outdoors. Oliwa in the spring was delightful with its beauty, and there were plenty of places to sing. From timid rehearsals, a bold project was created - the choir's second clip, recorded for the song Seasons of love by Jonathan Larson. The time of separation was a difficult time for friendships that developed between notes.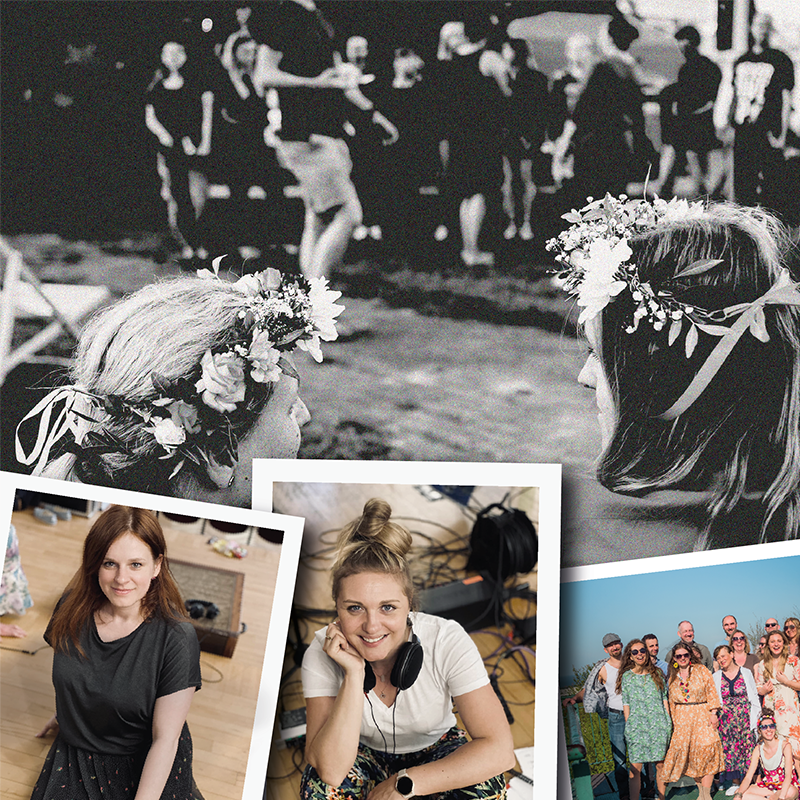 Karolina Rymarczyk, soprano

I met Ewa at the auditions. However, our first choral project - working on a music video for Seasons of love - integrated us the most. Later, there were additional vocal classes together. Nothing connects people like music! To this day, we like to spend time together, also outside of rehearsals. Seasons of love . Later, there were joint additional vocal classes. Nothing brings people together like music! To this day, we like to spend time together, also outside of rehearsals.
Ewa Bućko, soprano

First there was casting, online rehearsals and first outdoor rehearsals. This is how my adventure with Olivia's Choir began. An important moment was the recording of the music video for the song Seasons of love in a charming forest environment. We then got in touch with Karolina and shared energy. The song from the "Rent" musical is still very important to me today. A common passion can be a foundation and the beginning of beautiful relationships!seasons of love in a charming forest environment. Karolina and I caught contact and shared energy. A song from a musical Rent is still very important to me today. Common passion builds and can be the beginning of beautiful friendships!
Chapter 6
Where Music Flourishes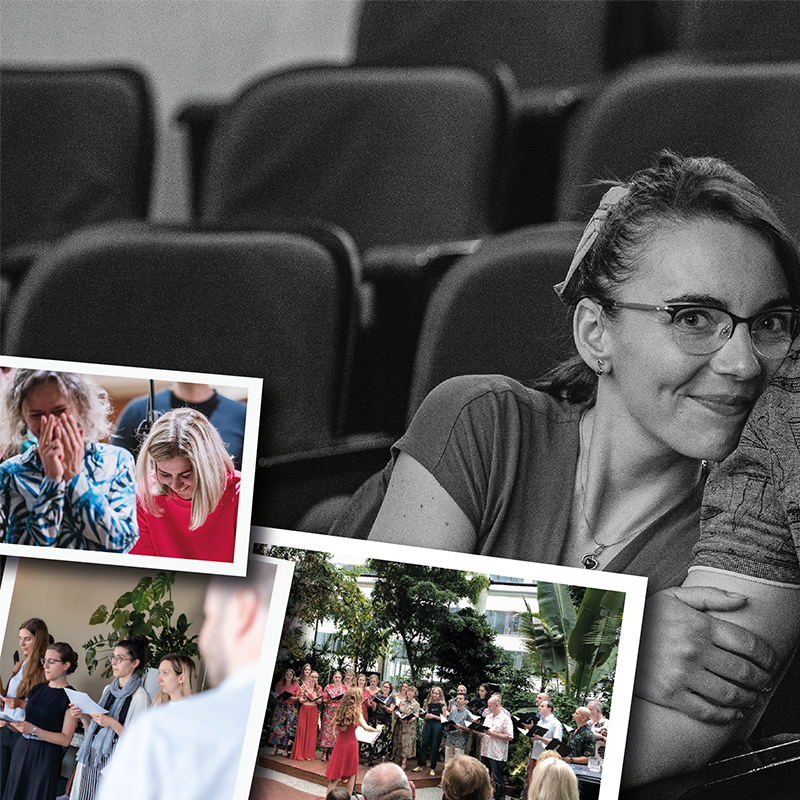 Together again, undefeated, they met for weekly rehearsals, practicing a completely new, exotic repertoire. A year-round tropical garden filled with plants from all over the world has been opened in Olivia Centre. Such a green space, pulsating with colours, inspired new musical explorations. In Olivia Garden, among the potted fig trees and banana trees and with the audience sitting around on the moso bamboo boards, during the next concert traditional African Zulu folk songs were played. The foreign-sounding language did not hinder understanding - every sound, bar, tone resounded with pure joy.
Chapter 7
Wholeheartedly
On March 28, 2022, the words of the song Prayer for Ukraine flowed from the throats of over a hundred choristers, including the Olivia Centre Choir. This is how began the Wholeheartedly with Ukraine. So began the charity concert Heart with Ukraine, charity concert, organized in Olivia for refugees fleeing to Poland from a war-torn country. Its originator was Wiktoria Pagieła from Żytomierz. It was the energy and persistence of Wiktoria that allowed to focus on one stage outstanding Ukrainian, Belarusian and Polish artists who performed together a piece, which is a prayer for a good fate for Ukraine, for wisdom, divine protection and many years to come for the country and its inhabitants.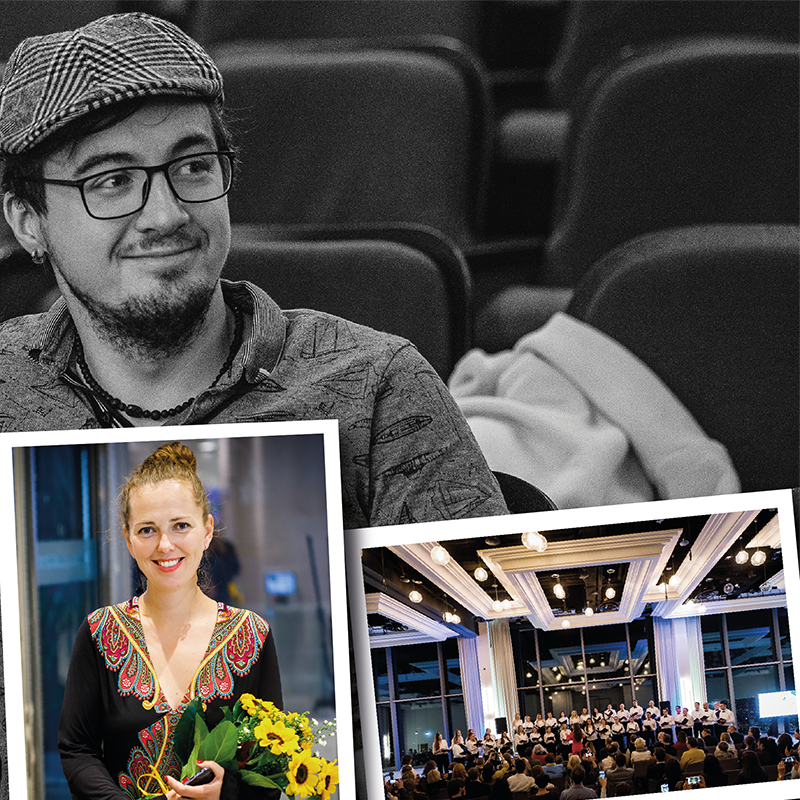 Wiktoria Pagieła, conductor

He who sings prays twice. We joined forces and voices in the moving project of Prayer for Ukraine, praying not only for peace in Ukraine, but also in Poland.
Chapter 8
They Sing Happily Ever After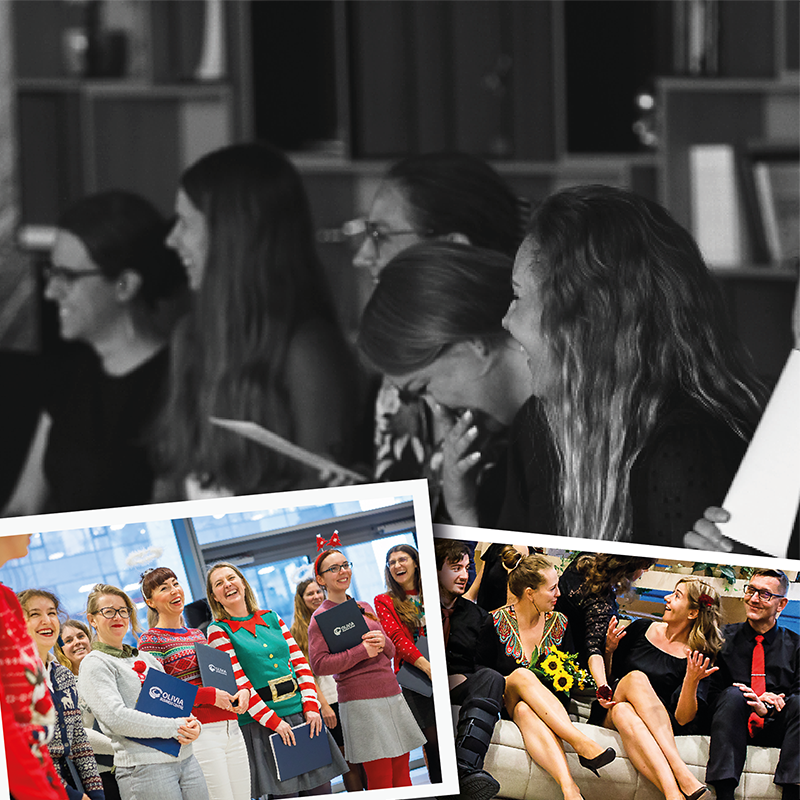 During 5 years of choir activity, the group was joined by many new voices. However, there are also those constant, unchanging - one of them is the voice of Remigiusz - the initiator of this tremendous endeavour. In the symbolic fifth year, the album is made. It is not only a record of the songs performed together, but most of all the stories of people who unexpectedly share their musical passion.
Chapter 9
Postscriptum
We hope that the album will provide you not only with a musical and aesthetic experience, but also inspiration to discover and develop your talents. The album was created as an expression of the willingness to share the fruit of the passion of the Olivia Centre community with our friends and supporters. Thank you for being with us!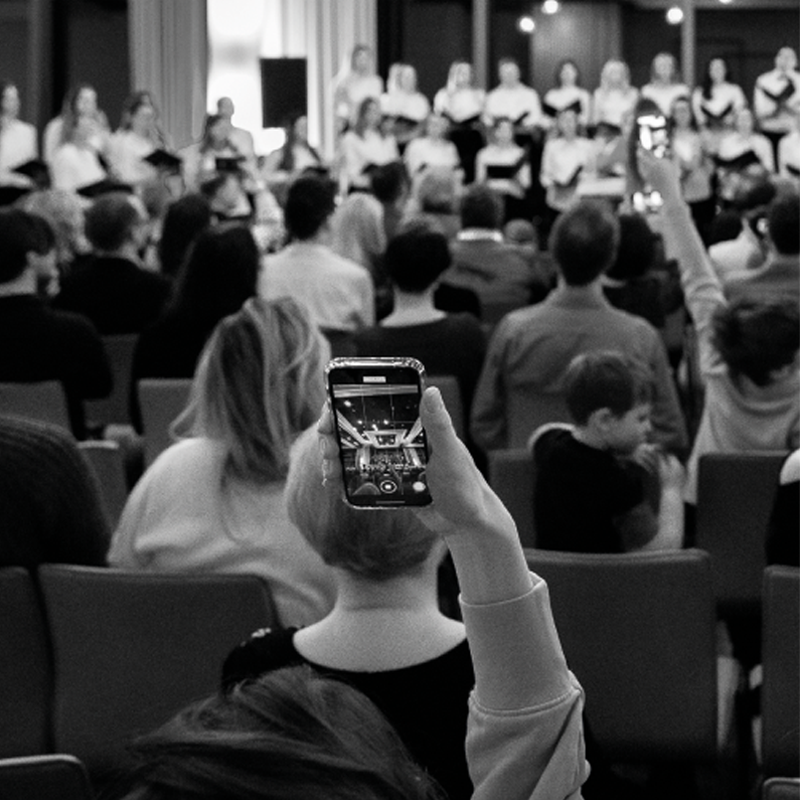 Tracklist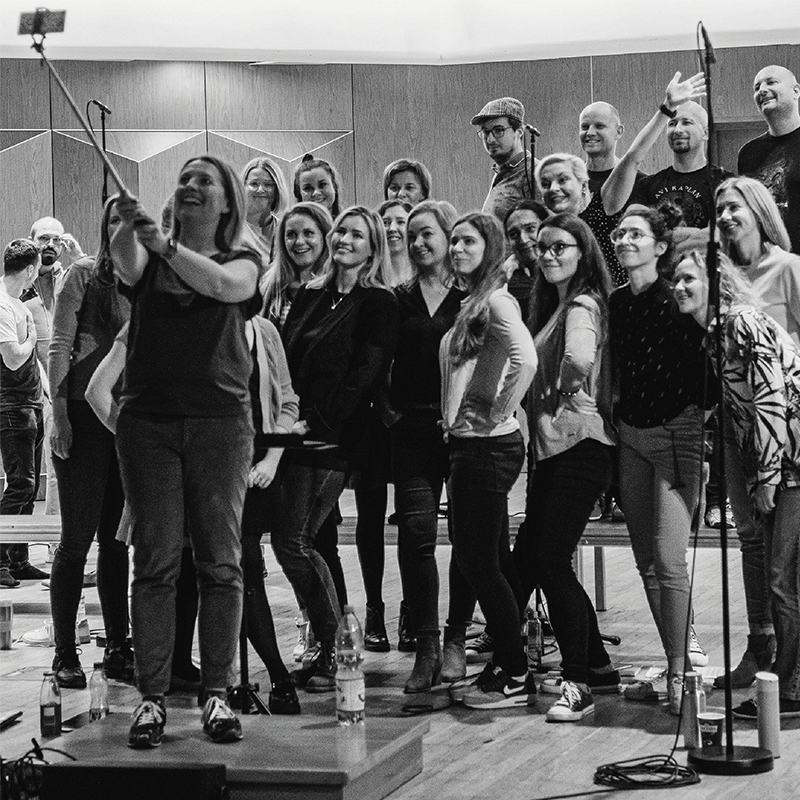 Sweet dreams – Annie Lennox, Dave A. Stewart – arr. Deke Sharon, Anne Raugh
Sobie i Wam – Marcin Bartosz Macuk, Katarzyna Nosowska – arr. Anna Borszcz
Opowiadaj – Zbigniew Wodecki – arr. Anna Borszcz
Seasons of love – Jonathan Larson – arr. Roger Emerson
Stand by me – Mike Stoller, Ben E. King – arr. Mac Huff
Help – John Lennon, Paul McCartney – arr. Mario Thurig
The lion sleeps tonight – Hugo Peretti, Luigi Creatore, George David Weiss
Siyahamba (Traditional Zulu Folk Song) – arr. Anders Nyberg
Shosholoza (Traditional South African Work Song) – arr. Albert Pinsonneault
Ayangena (Traditional Zulu Folk Song)
Olivia Center Choir
The Olivia Center Choir is a group of people of all ages, representing many organizations. Their love for music brought them closer. Currently, the team consists of almost 50 people and brings together representatives of Olivia's companies, such as: Agencja Rozwoju Pomorza SA, Avaus Marketing Innovations Poland Sp. z o. o., Bayer, Energa SA ORLEN GROUP, EPAM Systems (Poland) Sp. z o. o., Lyreco Advantage Sp. z o. o., O4 Coworking, PwC Polska Sp. z o. o., PKN Orlen SA, Randstad Polska, Skills Group Sp. z o. o., RICOH Business Services Polska Sp. zoo, Winning Moves Polska Sp. z o. o
The Olivia Center Choir conducted by Wiktoria Pagieła: Dorota Bednarczyk, Alicja Błażejewska, Anna Bratko, Michał Broekere, Emilia Ewa Bućko, Samuel Conejo Amaguaña, Krzysztof Dolański, Yuliia Fedosova, Anna Ficek, Magda Kamińska, Michał Krzepkowski, Ida Kwidzińska, Karolina Lewandowska, Marta Moksa, Magdalena Odrowąż-Piramowicz, Izabela Paluch, Katarzyna Piętka, Radoslaw Piętka, Hamish Potts, Katarzyna Roskosz, Dominika Rossa, Aneta Rybkowska, Karolina Rymarczyk, Aleksandra Peszek, Raman Shcherbau, Joanna Sienkiewicz, Samuel Steinborn, Maria Szkatulska, Karolina Tetlak, Aleksandra Troszczyńska, Aleksandra Waluda, Remigiusz Wojciechowski, Angelika Żołnierczuk, Wojciech Żółtowski.
Accompaniment: Krzysztof Hnatiuk - bass guitar; Jakub Krzanowski - drums; Karolina Ewa Krzyżanowska – keyboards, Olaf Szczeluszczenko – electric guitar
Wiktoria Pagieła, conductor
Founder and artistic director of the Olivia Centre Choir. A graduate of the St. Moniuszko Academy of Music in Gdansk, she has won and participated in numerous conducting and choral competitions in the Polish and international arena. Among others, Grand Prix at the A. Dworzak International Choral Competition in Prague for the SSW Mundus Cantat Choir, Grand Prix at the VIII O Warmio Moja Miła Festival in Olsztyn for the Tutti e Solo Chamber Choir, Grand Prix at the All-Polish Marian Song Festival in Chojnice. Originator and organizer of many musical events. President of the Gdansk Branch of the Polish Association of Choirs and Orchestras (2012-2014). One of her greatest successes is her participation in preparing the Choir of the Stanislaw Moniuszko Academy of Music in Gdansk to record the album Wojciech Kilar: Angelus, Exodus, Victoria. The disc received the 2014 Fryderyk Award in the Album of the Year category for symphonic and concert music.
#togetherwecandomore
Photo framing: Olivia's Photography Club and friends - Sylwester Ciszek, Krzysztof Hewelt, Iwona Karpińska, Marta Moksa, Mariia Roiuk, Maciej Roszkowski, Karolina Rymarczyk
Graphic design: Mateusz Laskowski | Graphic proofreading: Elżbieta Nowak
Creative team: Aleksander Demski, Katarzyna Halicka, Maciej Olszewski, Małgorzata Tomaszewska-Szumała
Relationship with residents: Patrycja Chracewicz, Dawid Glamowski, Monika Matysiak, Katarzyna Niedziela, Katarzyna Szymańska
Honorary Partner: Bayer