Of course, we can do a lot more with the My Olivia app. We won't go into too much detail here. We will remind you in points and specifically. And… we'll tell you what's new in the app! Well… Olivia residents with confirmed Resident status in My Olivia have access to the new functionality! It's Extrasy!
Extras Olivia in My Olivia app
What is it? Special offers, promotions, discounts that can only be used by employees of Olivia companies. We will be developing this option, so it's worth checking out "Olivia Extras". For now, you have m.in here:
Hairdressing Club Alternative AAZ Design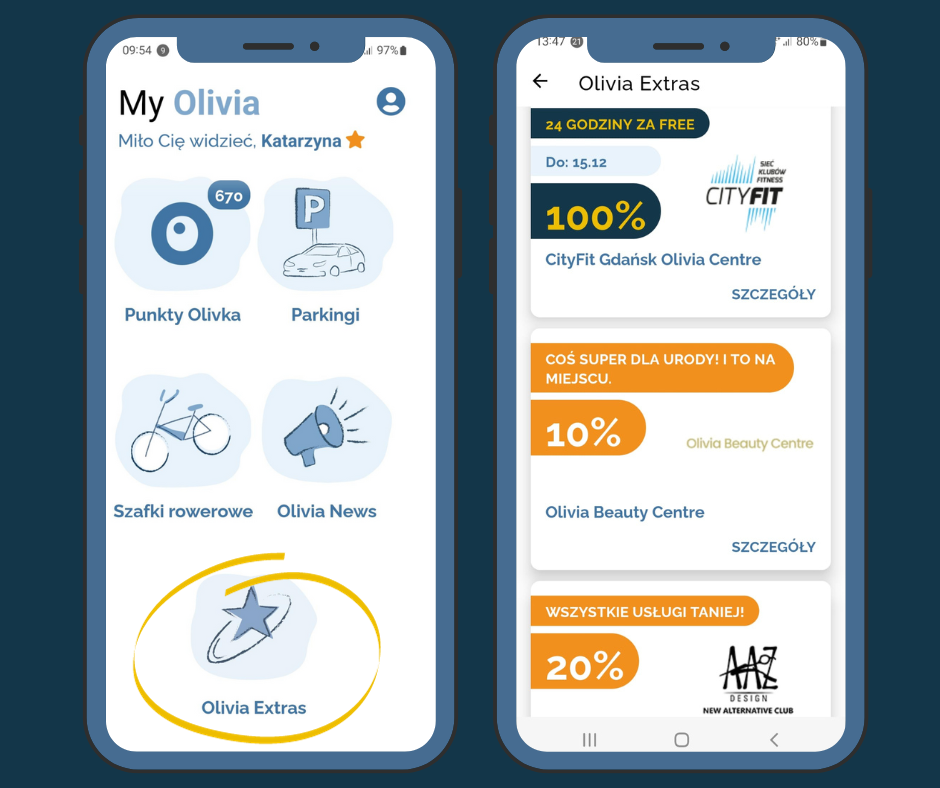 Remember about the status of a Resident, i.e. an employee of one of Olivia's companies
Download the My Olivia app

from the App Store

or

Google Play

if you don't already have it.
Sign up for the app using your business address (an address on your business domain). This is very important, because when you provide your business address during registration, you will automatically receive the Resident status as soon as you click on the activation email.
If you don't see the activation email, check your SPAM first. It happens that this type of correspondence (registration confirmations, orders, purchases) falls into this folder. If you still do not receive an email from the sender of "My Olivia →



app@oliviacentre.com



", please contact us by e-mail at



aplikacja@oliviacentre.com



. You can also use the form in the app → the "Contact us" option in your My Olivia panel.
With the Olivia Centre app as an Olivia Centre Resident
free access to the Observation Deck
you will visit Olivia Garden free of charge
book a ticket for free events in Olivia (EVENTS)
you can buy tickets for paid events (EVENTS) cheaper
you will take advantage of cool offers and offers only for Residents (EXTRASY)
check the menu of our restaurants
you will read the news
you also have points from the Olivka app, so one app – My Olivia – is enough to use the Natka or Natki Bistro loyalty programs
Besides:
Enjoy!