Are you looking for an office for your company? A place for a dynamic project team? A coworking space is a great option. In our opinion, it is an option for everyone, including micro, small and medium-sized enterprises. At Olivia Business Center, you can take advantage of the offer of O4 Coworking, which provides attractive and modern workspaces. Here you will definitely find the perfect solution for your business.
Many things have changed during COVID, but not the strength and importance of direct interpersonal relationships. We work better, more effectively, and efficiently when we have face-to-face contact (no, not online, via Microsoft Teams or Skype, but direct contact, eg, in the office). Already two years ago *, large corporations declared that they intended to increase their use of flexible workplaces, serviced offices and coworking spaces, which create a work environment that is much more conducive to cooperation and also provide the freedom to quickly increase and reduce the scale of operations according to the prevailing conditions on the market.
More than half of the companies (55%) indicated increased flexibility as the main reason for such a change, while a large proportion (11%) considered the sense of community formed between employees as the key benefit. A further 11% claimed that the primary reason to opt for coworking or serviced offices over more traditional office spaces was to achieve operational capacity faster. And what do you think?
WHY O4 COWORKING?
FLEXIBLE RENTAL TERMS - fully equipped offices at O4 Coworking can be rented at a favored price, the offer is flexible and tailored to your expectations and needs. There is no need to sign long-term contracts here, and, if at any time you wish to resign from membership, the procedure is quick and easy.
THERE IS NOTHING TO WORRY ABOUT - you do not have to remember about social facilities, tidiness and order at the workplace, attractions for employees and networking. O4 Team takes care of that. What is more, the main goal of coworking is business development - therefore, O4 Coworking makes sure that you have a chance to meet other companies that can become your client or business partner.
GLOBAL PARTNERSHIPS - O4 Coworking cooperates with coworking spaces all over the world. Thanks to this, its members can use resources of coworking spaces for free, even on the other side of the globe.
TAILOR-MADE OFFICES - O4 Coworking has four different locations in four different Olivia buildings. Each space is different and tailored to different needs. A few words about each of them…
O4 Coworking at Olivia Six is classy and prestigious. A qualified community manager takes care of its tenants and guests. This place will certainly impress the most demanding clients and their business partners. The advantage is the view of Gdańsk from the 13th floor of the office building.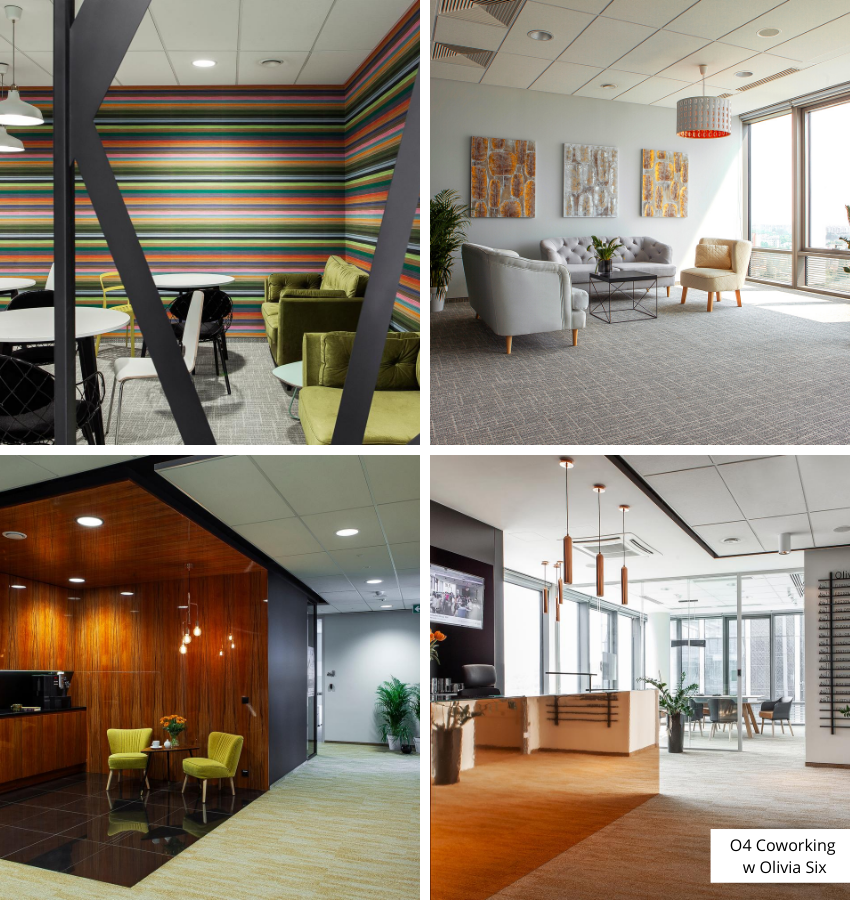 O4 Coworking at Olivia Star - simplicity of the highest quality reigns supreme here. It is an elegant space with offices conductive to work that requires silence and concentration. Modern, bright spaces in the tallest building in northern Poland.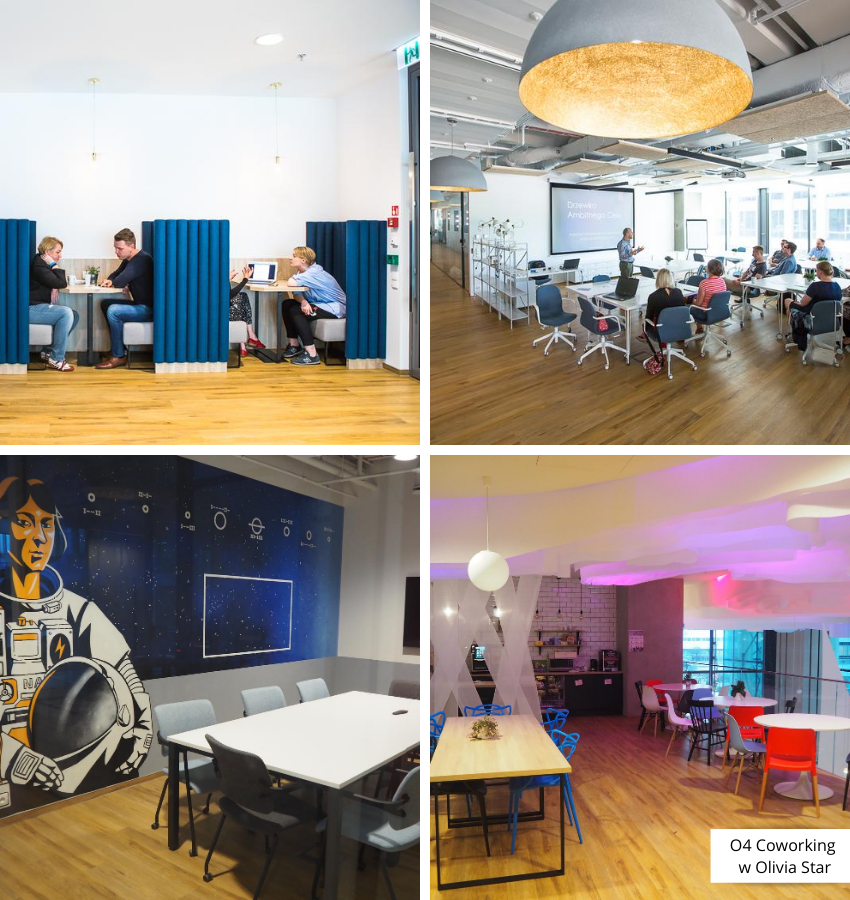 It all began at O4 Coworking at Olivia Four. It is here, especially in the conference center, where most events, training sessions and conferences take place. The size of common spaces is conducive to networking and gaining new partners in business.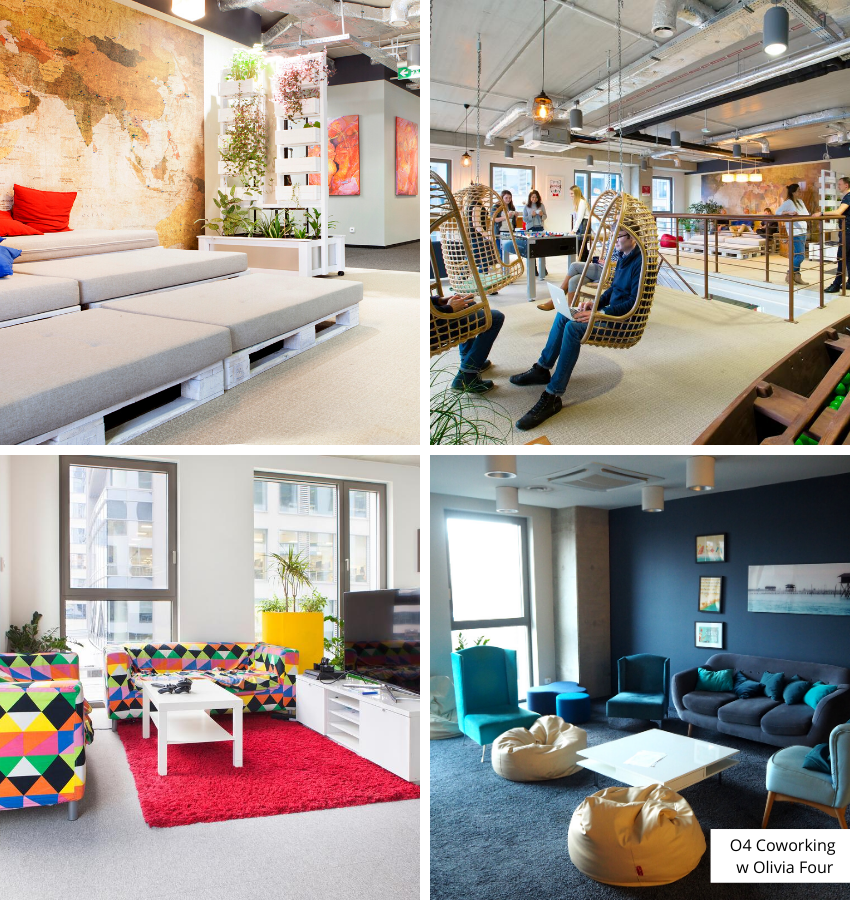 O4 Flow at Olivia Gate - the first coworking space for companies managed by women in Central and Eastern Europe. Friendly, cozy and classy. Its main goal? Support and development of women's businesses and women's entrepreneurship. Numerous events and meetings for ladies take place here, from business consulting, through advice of a lawyer, accountant and architect, to talks with image and social media experts.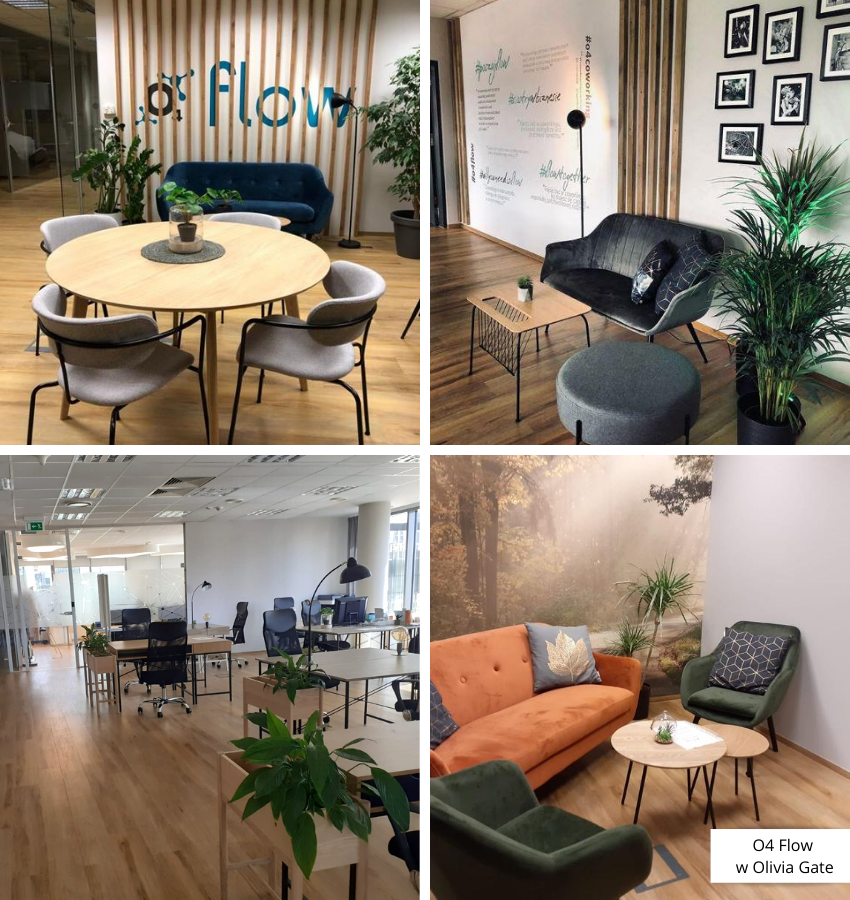 SPACE FOR EVERY MEETING - O4 Coworking offers 18 different conference rooms, where you can organize formal and informal meetings for 2, 6 as well as 20 people. You can also hold a large conference for up to 200 people here.
Would you like to learn more?
Make an appointment and see what opportunities await your company in the coworking space in Olivia.
* Knight Frank, (Y) OUR SPACE, the report presents the results of a survey conducted among top management representatives in 120 global corporations, which together employ over 3.5 million people and occupy an estimated 22 million sq m of office space, which corresponds to the entire office space in central London.